The Upside of Expectations
Last June, I taught a Soulmate Secret weekend workshop in Dublin, Ireland ­a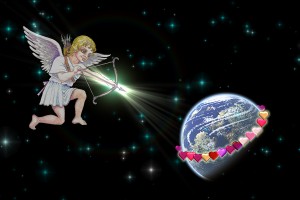 beautiful, magical part of the world. Yesterday I received this email from one of my students, Brendan, a widower, who was longing for a new soulmate. He shared with me his success story:
Dear Arielle,
Good news!
After a fruitless search for a partner for five years, I was fortunate to attend your seminar in Dublin early this year. Besides being won over by your lovely personality and genuine concern for helping everyone achieve happiness, I also took on board the simple techniques that you showed us are proven to work.
*I made my wish list of 19 qualities of my perfect soulmate.
*I stuck it up on the wall beside my pillow and enclosed it inside a big heart.
*I visualized what it would be like to live with this person.
*I threw my wishes out to the universe and expected to get a good result.
Two months later I was approached on a dating website by the woman of my dreams from Poltava in the Ukraine. She ticked off every one of my 19 ideal qualities for my soulmate, even though she spoke no English and I spoke no Russian!! The online site provided a daily translation service. An email sent by me before 12 noon got a reply in English that evening. A very efficient service!!
Nadya had also made a wish list of the qualities she expected in her perfect soulmate, and I matched them. Nine weeks later I met her in Poltava and proposed marriage within two days. We are getting married on the 30th April next year.
She said that she knew we would get married even before we met!!
Many thanks for your inspiration!
Brendan
One of the most powerful things Brendan did is this: "I threw my wishes out to the universe and expected to get a good result". As you know, but it bears repeating, The Law of Attraction states that we draw to us the people and experiences that match our state of BEING, Brendan "expected" a good result and that is exactly what he got.
What are you expecting?
If it is hard for you to FEEL your way into your future wedding, be sure to check out The Soul Mate Kit, you will find countless exercises to help you get over the obstacles and find your soulmate.
My new book Wabi Sabi Love is now available!  Finding your Soulmate is just the beginning.  Read how successful couples keep the soulmate fire burning.  Receive a priceless bonus bundle of advanced love attraction resources and techniques when you order your copy right here:   Wabi Sabi Love
https://www.arielleford.com/wp-content/uploads/af-logo.svg
0
0
Arielle Ford
https://www.arielleford.com/wp-content/uploads/af-logo.svg
Arielle Ford
2010-10-27 11:57:28
2012-04-07 21:22:38
The Upside of Expectations