Books
Turn Your Mate into Your Soulmate: A Practical Guide to Happily Ever After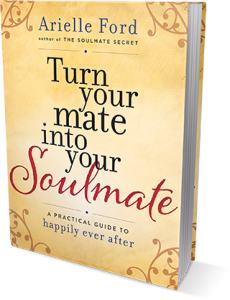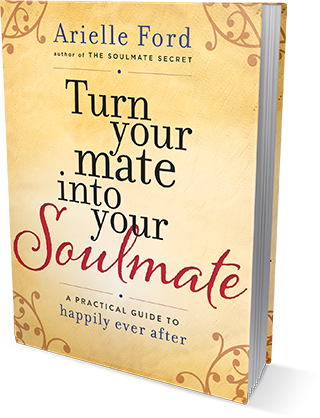 Arielle Ford, internationally bestselling author and relationship expert, offers a groundbreaking new book that will give you sixteen simple, easy, and fun ways to reignite love, passion, respect, and renewed commitment, years after the simple act of falling in love. Turn Your Mate into Your Soulmate holds the keys to an amazing, unimaginable transformation that could create the love of a lifetime. PLUS, if you pre-order today, you'll get TONS of free bonus gifts!
The Soulmate Secret: Manifest the Love of Your Life with the Law of Attraction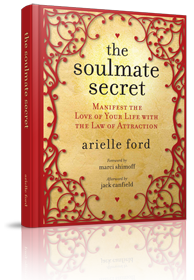 Have you ever wondered what it takes to find the love of your life? Is it your dream to find a life-partner who will love, cherish and adore you? The Soulmate Secret: Manifest the Love of Your Life with the Law of Attraction will show you how to take control of your romantic destiny. Arielle Ford knows that finding true love is possible for anyone at any age if you're willing to prepare yourself, on all levels, to become a magnet for love. Arielle used the techniques in this book to bring her soulmate, Brian Hilliard, into her life at age forty-four. They were engaged three weeks later. Now together for more than ten years, her techniques have worked for men and women from 18 to 85 years of age.
Buy on Barns and Noble
Buy Spanish Version on Amazon
This ancient formula reveals that our universe is set up to deliver the people and things into our lives that are consistent with our personal belief system. If you don't believe you will ever find the One, then guess what? You probably won't. If, however, you learn to believe that the One is not only out there but is also looking for you, then true love can be yours.
This step-by-step guide will reveal how to heal your heart of anything that might prevent you from manifesting your soulmate as well as how to prepare your body, mind, spirit and home. By following the techniques, prayers, rituals, projects, and feelingizations™ in The Soulmate Secret, BIG LOVE can be yours!
In The Soulmate Secret, you will learn:
A proven formula for preparing your body, mind, heart, spirit, and home for the arrival of your perfect life partner
Techniques to energetically unhook from past relationships so you are fully available to receive love in the present
How using your imagination and a box of crayons can help you clarify and attract the kind of lover you really want
Space-clearing rituals and Feng Shui principles to unclutter your life, "feather your nest," and transform your home into a haven of love
Comforting, health-enhancing processes known as "feelingizations™" that summon the powerful forces of attraction
The surefire strategies that hundreds of men and women have used to magnetize deep and passionate love – often in the most unsuspecting places
The Soulmate Secret is now available in UK, Australia, Switzerland, Austria, Canada.
It will soon be published in the following languages:
Spanish, Portuguese in Brazil, German, Russian, Japanese, Polish, Dutch, Italian, Bulgaria, Turkish and Complex Chinese excluding mainland China.
Love On The Other Side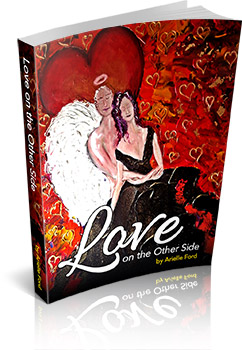 What happens when one half of a soulmate couple dies? In her new relationship expert and bestselling author, Arielle Ford, reveals true, compelling stories about what happens when one half of a soulmate couple dies and how the love connection continues in the afterlife.
Wabi Sabi Love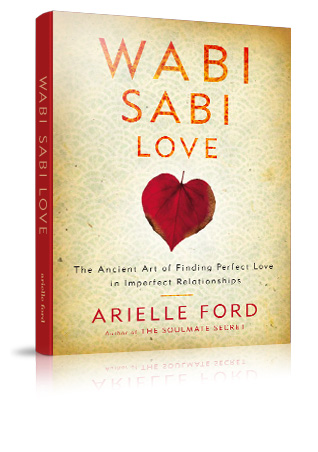 Imagine the possibilities that would open up in your relationship if you could learn to accept, embrace and even find the gift in your partner's imperfections. It is not about tolerating your partners' so called flaws, but actually finding the perfection in all that is imperfect about them. Learning to love the Wabi Sabi way is the fastest way to build the heartfelt, loving and long-lasting connection you wanted when you attracted your Soulmate in the first place.
Hot Chocolate for the Mystical Lover: 101 True Stories of Soul Mates Brought Together by Divine Intervention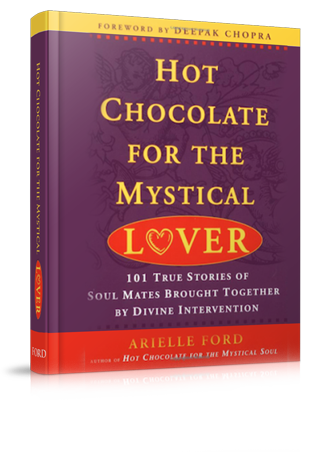 Falling in love always seems like an enchantment for those involved, so it's no surprise that Ford has managed to rustle up 101 stories of mystical meetings. Divided into nine sections (Love Lost and Regained; Soul Mates from Past Lives; Destiny and Love at First Sight; etc.), this collection is sure to succeed with loyal readers of the popular Hot Chocolate for the Mystical Soul books.
More Hot Chocolate for the Mystical Soul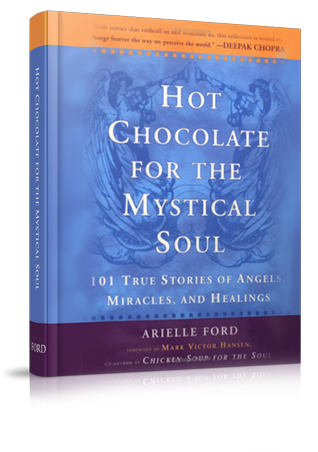 Brings together more true accounts of the magical, the mystical, and the miraculous. This special book carries the wisdom for the ages in 101 extraordinary tales of mystical phenomena, miraculous healings, divine interventions, and angelic rescues certain to enrich and enhance our spiritual lives.
Magical Souvenirs: Mystical Travel Stories from Around the World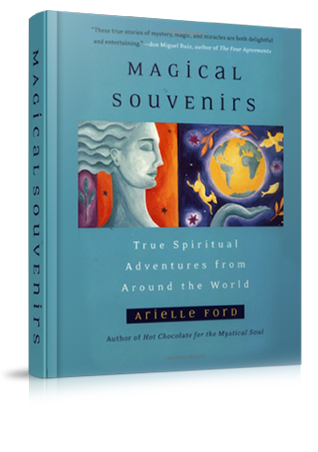 The highly recommended Magical Souvenirs is for readers who relish the inexplicable moments of travel: the bizarre coincidences, true miracles, and still-unsolved mysteries. This collection of stories, edited by Arielle Ford, features dispatches from the edge of the world and even the edge of consciousness.
Hot Chocolate for the Mystical Teenage Soul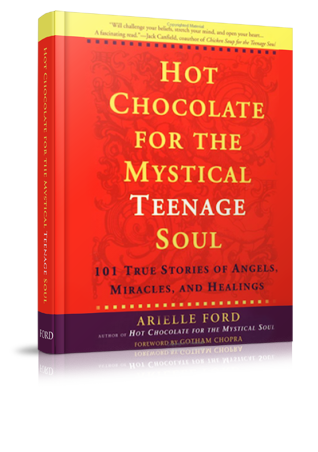 101 true stories of mysterious experiences involving angels, miracles, near-death experiences, divine interventions, and miraculous healings that have happened to teenagers from all walks of life. The result is a book that offers hope and insight at a time when being an adolescent is more difficult than ever before. Cutting through society's cynicism and pessimism, this book makes for a gift of love from parents to their adolescent children.