My dear friend David Wagner, discovered his life's purpose while at work one day as a hairdresser. One of his regular clients came in unexpectedly for a blow out. David decided to give her an extra long head massage. As he shampooed her hair and lovingly massaged her scalp, he was, as usual, friendly and kind during their time together.
A few days letter he received a surprising letter from the woman. She wrote that she had come in for a blow out because her plan was to commit suicide and she wanted to look good at her funeral. But, because of David's attention and love, rather than follow through with her plan, she decided life was worth living and she checked herself into the hospital and sought help.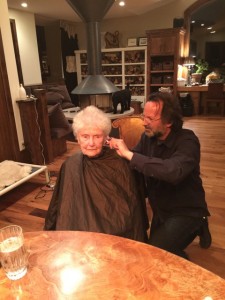 In that moment, David had an epiphany. He realized that he was more than a hairdresser, more than a boss to 400 employees at his many Juut Salonspas in Minnesota…..he saw that he was in fact a "Daymaker."
He now knew his purpose in life was to make someone's day, to spread love, to be a love generator.
It's a simple concept with a powerful effect.
If we all commit to be "Daymakers" in our lives, and the lives we touch, the world will quickly become a more loving place.
Below are some of David's tips on how to be a Daymaker in all areas of life.
Make Your Lover's Day
Write a love letter and send it in the mail. It costs 44 cents.
Send your mate's parents flowers on your mate's birthday.
Rent a tandem bicycle for the weekend.
Offer to take over something your mate usually does (like cook dinner).
Break out the best china this week, especially with kids. It will create a special night for everyone.
Ladies, send him flowers at work today. How rare is it for a guy to get flowers? Very rare! They love it!!
Make A Co-Worker's Day
Offer to pick up lunch for someone you know is swamped.
If you have an SUV, offer to pick up others on a snowy day.
Pass the bouquet. Give someone special a bouquet and have them pass it on to someone else the following day. It's a week of Daymaking with one bouquet!
Create a Daymaker of the Year award at work.
Write a thank you note to the boss. It's lonely at the top. Everyone needs to know they're appreciated for their work.
Acknowledge promotions; send a card to the employee's home.
Grab coffee for your coworker on the way in!
Make A Stranger's Day
Put a quarter in a gumball machine and walk away.
Let people merge in traffic today.
Carry thank you notes with you. Write them out to waiters and waitresses. It will surprise them more than a big tip.
Plug a parking meter that's expired.
Help a stranger take their luggage off the carousel at the airport.
Buy a bike for your local children's shelter.
Buy gift certificates to a car wash and leave them on the windshield of random cars.
Buy gift certificates to an ice cream shop and give them out on a hot day.
Make Your Own Day
Tonight make your home a spa. Use your favorite soothing music, scented candles, bath salts/oils, calming tea, and favorite robe. Unplug the phone, put the kids to sleep and enjoy two hours of bliss.
Buy fresh flowers on your way home tonight.
Call someone just to say, "I love you and I'm glad you are in my life."
Watch the sunset.
Turn off your cell phone ringer during dinner.
Be an optimist today. Look on the bright side of everything that comes your way. Repeat it tomorrow.
To join David and the tens of thousands of Daymakers around the world, please visit: www.daymakermovement.com
Wishing you love, laughter and magical kisses,
Arielle
P.S. In the photo above, David is being a Daymaker for his wife Charlie's Grandmother, June. She will be 99 next month!
https://www.arielleford.com/wp-content/uploads/af-logo.svg
0
0
Arielle Ford
https://www.arielleford.com/wp-content/uploads/af-logo.svg
Arielle Ford
2015-03-31 07:00:03
2015-03-30 15:43:41
Be A Love Generator