Arielle Recommends: "We Need To Talk."
Do you know what the four most dreaded words are in most relationships?
"We need to talk . . ."
Those words strike fear into the heart of most people. We become frightened, thinking that we've done something terribly wrong, or that we are about to be dumped.
Can you avoid ever having to hear those words again in your relationship or at work?
That's impossible to predict, but what you can do is learn and master the fine art of communication so that you can enjoy the kinds of relationships you yearn for — and deserve.
The famous therapist, Virginia Satir said, "Once a human being has arrived on this earth, communication is the largest single factor determining what kinds of relationships she makes with others and what happens to her in the world about her."
My friends Paul and Layne Cutright have created a simple, easy and fun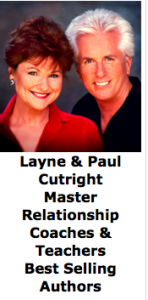 communication technique they call "Heart to Heart Talks" –— a powerful way to create more trust, honesty and intimacy that sets the stage for having good conversations when the going gets tough
. And, equally important, the kind of deep, soulful communication that keeps the heart fires burning and the work environment a place you look forward to going to.
When you learn all four of the different Heart to Heart Talks — Discovery, Nurturing, Clearing and Affirming — you will feel confident (and be competent) to handle whatever may come up in your relationships.
Now, I've seen too many people wait until they are in a relationship before they take steps to actually learn the skills necessary to be successful. Then, sadly, it is often too late.
The Roman philosopher Seneca sagely said, "Luck is what happens when preparation meets opportunity."
Paul and Layne have taught thousands of people how to use Heart to Heart Talks to consciously create more open, authentic and heart-centered relationships, both in their personal lives and professional lives.
The Cutrights have been in a romantic and professional/creative partnership for 34 years and they credit Heart to Heart Talks as the foundation of their long-lived success. Heart to Heart Talks is a result of their lifelong experiment in keeping the love alive.
They are offering readers of this newsletter a special program that includes their book, Straight From the Heart, along with over six hours of training in an accompanying audio program in which they model each of the four kinds of Heart to Heart Talks and coach participants in a variety of real life relationship issues and situations.
So, if you'd like to learn some uncommon secrets and strategies for successful relationships of all kinds, go ahead and check this out: paulandlayne.com
My new book Wabi Sabi Love is now available!  Finding your Soulmate is just the beginning.  Read how successful couples keep the soulmate fire burning.  Receive a priceless bonus bundle of advanced love attraction resources and techniques when you order your copy right here:   Wabi Sabi Love
https://www.arielleford.com/wp-content/uploads/af-logo.svg
0
0
Arielle Ford
https://www.arielleford.com/wp-content/uploads/af-logo.svg
Arielle Ford
2010-10-27 11:56:21
2012-04-07 21:23:16
Arielle Recommends: "We Need To Talk."