The Soulmate Secret – One Day Workshop
CHICAGO AREA • Saturday, April 27th
INFINITY FOUNDATION
Fast, Fun, Effective, Powerful
This is an experiential workshop to get you ready and primed to manifest the love of your life. Utilizing The Soulmate Secret proven processes for quickly gaining: Read More →
Clarity of the life partner your SOUL is most calling for
Rituals and process to harness the Law of Attraction
Clearing techniques to let go of the past hurts and welcome in new love
How to use Quantum Science to meet your soulmate NOW…Love before first sight!
and much more.
Infinity Foundation is the Chicago area's leading holistic education center. Infinity offers Courses For Life®, providing you with experiential courses in personal, professional, and spiritual growth to enhance your life.
← Less
Course 183164 CEUs available
Time 9:00 AM – 4:30 PM, lunch on your own
Cost $110/85 payment 10 days in advance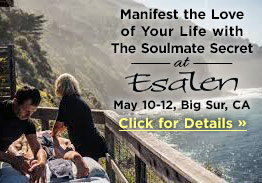 The Soulmate Secret: Manifest The Love Of Your Life
Esalen – Big Sur, CA May 10-12
LIVE Weekend Workshop with Arielle Ford
Are you seeking your soul mate? Are you willing to dedicate a little time, energy, attention, and intention to making it happen? Join internationally celebrated love and relationship expert Arielle Ford for a fun, empowering, experiential workshop. Gift yourself the long-term romantic fulfillment you deserve!
Read More →
Discover The Soulmate Secret, a set of powerful, easy techniques that Arielle developed over 20 years ago and has used successfully. Practice proven prayers, rituals, and processes for manifesting a soul mate, and explore effective healing techniques to let go of past heartbreak and blocks to love. Look forward to an evening "fire ceremony" to release the past and propel you into your romantic future.
Discover effective ways to let go of past lovers and old beliefs and open the door for your perfect partner to enter your life.
Take personal responsibility for your own happiness and let go of limiting beliefs about yourself, dating, and marriage.
Explore Arielle Ford's techniques, which have worked for tens of thousands of people of all ages in 40 countries around the world—including her 80-year-old mother-in-law.
← Less