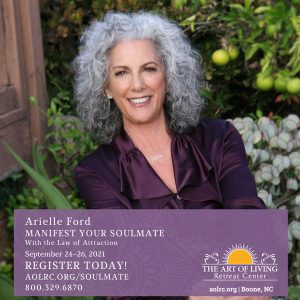 Manifest Your Soulmate
With the Law of Attraction
September 24-26, 2021
Attract the Love of Your Life
Are you ready to meet your soulmate—your partner for life?
Best-selling author Arielle Ford has helped thousands of men and women of all ages (including her 80-year-old mother-in-law) find true love and she wants to share the proven secret to doing this with you.
As a student of love for two decades, having studied with the world's leading relationship experts, Arielle combines ancient wisdom with a practical approach for manifesting true and lasting love for single men and women of all ages.
Read More →
In this Workshop, You'll Discover
Proven rituals and processes to attract the soulmate of your dreams
Healing techniques to let go of past heartbreak and remove blocks to love
Clarity of your needs and desires for manifesting long-term romantic fulfillment
How to open your heart and connect with the partnership energy of the divine
Ways to prepare your body, mind, spirit, and home for the arrival of your perfect life partner.
Once you come to realize that "the one" is not only out there but also is looking for you, then true love can be yours.
This program is open to singles only.
A Retreat in the Mountains
During your stay, you have time for personal R & R also. Whether you want to explore forest trails and bask in the fresh mountain air, enjoy a pottery or watercolor painting class, release stress with a therapeutic spa treatment, the choice is yours. (Additional fees may apply.)
Make Your Retreat Extra Special
Combine your retreat with authentic Ayurveda for rejuvenation on all levels, body, mind and spirit. The recommended Ayurveda treatment for this retreat is an Abhyanga massage ("Abby" for short), followed by a relaxing steam to further release stress.
Pre-requisite: 18 years of age or older.
← Less