Are you really in love? (plus find LOVE on Facebook)
Did you get your heart broken in high school or college?
Or, did you break someone's heart?
Are you single now?
Are they?
Fascinating new research shows that if you reconnect with someone from your past that you were once in love with and both of you are now single, there is a 70% chance that you can reconnect and have a happy life together!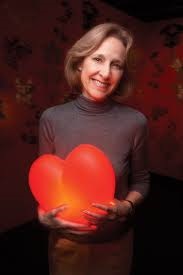 One of my favorite TV shows, CBS Sunday Morning, recently did a segment on this topic, featuring Dr. Helen Fisher, and highlighted several couples that found each other again, including one woman who reunited with her Ex via Facebook. In spite of the fact that one of them dumped the other in the long ago past, these couples reconnected and are now happily married.
What happened?
According to Dr. Fisher, anthropologist, love expert, and Rutgers University professor, the brain chemistry and circuitry that first had them fall in love was "re-ignited."
Why? Because chances are you will still find each other attractive, and you share important history together. There is a built in comfort level:  You already know each other…family, friends, and all kinds of background info. If you re-connect, you could have your brain chemistry triggered and voila, romance re-blossoms!
Dr. Fisher and her research partner, Dr. Lucy Brown, have a new website, where you can learn much more about love and they offer a fantastic quiz where you can discover if you really are "in love."  They call it a Love Calculator and it measures the Passionate Love Scale. Try it now at www.theAnatomyofLove.com.
Wishing you love, laughter and magical kisses,
Arielle
https://www.arielleford.com/wp-content/uploads/af-logo.svg
0
0
Arielle Ford
https://www.arielleford.com/wp-content/uploads/af-logo.svg
Arielle Ford
2015-02-24 06:00:28
2015-02-20 10:05:53
Are you really in love? (plus find LOVE on Facebook)