The first time I met Alex Garrett, he was seven years old and chatting me up during my book signing in NY's east village. He very articulately explained his plans to become a sports broadcaster and I quickly learned what a remarkable human being he is. Today, at age 23, he indeed works in the radio biz on AM 970 and AM 570.
Last year Alex was having a typical day rollerblading through New York City on his one leg, when he was photographed for the website www.HumansofNewYork.com. Jordan Farr, a fan of the site, saw Alex's photo, read his story, tracked him down via Facebook and sent him a message saying, "I can't even roller blade on two legs." Intrigued, Alex wrote her back.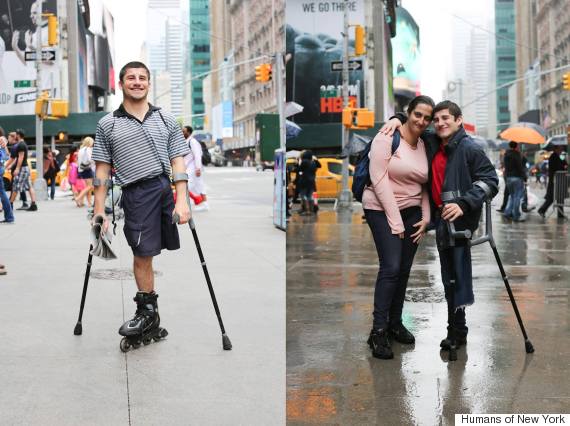 "When she responded the second time with a bubbly message and started telling me about herself, I knew that she was what I was looking for in a woman, someone who can be as open with me as I am with her."
Alex arranged a meeting and discovered a woman who is 'quirky and fun' and says "I instantly fell in love with her."
After their first date he told his friends, "Guys, this girl is truly amazing."
Upon meeting Alex, Jordan's response was, "Oh, he's so cute and such a bad ass! (in a good way)."
They have now been together for nearly a year.
"She is my soulmate and she has it all, brains, beauty and fun," says Alex.
You never know when, where, or how, you will meet your soulmate, but I promise you this: it won't be when you are sitting at home alone on the couch watching reality TV.
Get out there.
Get visible.
Pay attention to the ones that are paying attention to you.
And remember this TRUTH I learned from my grandmother:
"There is a lid for every pot!"
Wishing you love, laughter and magical kisses,
Arielle
https://www.arielleford.com/wp-content/uploads/af-logo.svg
0
0
Arielle Ford
https://www.arielleford.com/wp-content/uploads/af-logo.svg
Arielle Ford
2015-07-21 14:01:10
2015-08-08 07:16:47
Love Will Find You