Arielle Recommends: Why He Disappeared
Even though I'm proud of the work I do, I'm the first to recognize that there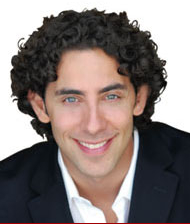 are a bunch of other relationship experts with unique and powerful messages.
Today, I want to introduce you to one of my favorites. His name is Evan Marc Katz.
If you haven't already heard of him, he's the author of two books about dating, and has appeared on the Today Show, the Early Show, the Tyra Banks, Rachael Ray, and so on. But that's not why I'm telling you about him.
The reason I want you to get to know Evan Marc Katz is this: He is the only male dating coach I know who works exclusively with smart, strong, successful women.
His entire job is spent helping women just like you – the creme de la creme ­ understand and connect with men. His new book, "Why He Disappeared: the Smart, Strong, Successful Woman's Guide to Understanding Men and Keeping the Right One Hooked Forever" is phenomenal. Really.
Here's something he wrote which blew me away. I trust you'll agree:
You Don't Attract the Wrong Men. You ACCEPT The Wrong Men. What happens when you find yourself incredibly attracted to a man? Well, there's the feeling of chemistry and everything that comes along with it – the obsessive highs that come with wanting to be with him, the joy of feeling incredibly connected, and, what you may forget, the willful blindness that allows you to overlook his flaws.
That's one of the most miraculous things about chemistry: it allows you to focus only on the good and ignore all the bad. Which is why you can have incredible chemistry and end up in a TERRIBLE relationship, where he doesn't call you, doesn't sleep with you, doesn't compliment you, doesn't make you feel safe, and doesn't commit to you.
But you stick around because of how strong your rare FEELINGS are. You've now discovered the real secret to why you're in dead end relationships:
You don't attract the wrong men, you accept the wrong men.
If you consistently find yourself in relationships with liars, cheaters, addicts, leeches, or commitment-phobes, your job isn't to get them to stop lying, cheating, drinking, mooching or flaking. Your job is to leave.
You'll never stop attracting the wrong men, but starting now, you can stop ACCEPTING their bad behavior… and save yourself years of heartbreak and pain.
Amen.
Evan is offering a ton of high-quality bonuses to go with his fascinating take on the male mind. Along with his eBook and a 2 hr audio version of the same material, Evan is going to give you this:
Why He Disappeared Online – 30 page eBook and 36-minute audio, helping you understand the 3 main reasons that men don't follow through with you.
Audio Interview on the difference between chemistry and compatibility, the difference between loving someone and being "in love", and which flaws you should and should not overlook in men:
Audio Interview on what men really think of women who ask them out, the 2 things that cause men to end relationships every time, and how to find a partner who is more compatible.
Video Interview with Carol Allen – emotional I.Q., having realistic expectations, the false clarity of passion, being a "yes" woman, choosing character over charisma, and what men truly want in a partner.
And best of all, Evan offers a one-year money back guarantee if you don¹t love his book, he'll refund your money. Definitely worth checking out!
My new book Wabi Sabi Love is now available!  Finding your Soulmate is just the beginning.  Read how successful couples keep the soulmate fire burning.  Receive a priceless bonus bundle of advanced love attraction resources and techniques when you order your copy right here:   Wabi Sabi Love
https://www.arielleford.com/wp-content/uploads/af-logo.svg
0
0
Arielle Ford
https://www.arielleford.com/wp-content/uploads/af-logo.svg
Arielle Ford
2010-09-22 12:09:57
2012-04-07 21:23:57
Arielle Recommends: Why He Disappeared