The Love Potion Enhanced by Art & Music
Prolific artist/musician Sharron Katz has an inspiring soulmate manifestation story that I just had to share with you.
Now, at age 61, she is happily with her beloved, Mike, 66, and together they are sharing a juicy, creative, open, honest, musical and artistic life together.
But it almost didn't happen.
After a 15-year marriage and a super bad divorce, Sharron had big doubts if she would ever find real love.
Thank God she trusted her intuition, and she was willing to do the deep work on herself and of course, followed The Soulmate Secret manifestation steps.
Intuition #1: She moved to a smaller town once her daughter left for college.
Intuition #2: In addition to creating a soulmate wish list, she had a vision to create a painting of her and her man (you are looking at it now!) to assist magnetizing him in.
Intuition #3: Once moved into her new town, she boldly and bravely found a Facebook group of local musicians and invited these like-minded strangers to her home for a party. Mr. Right was among the guests that night and sparks flew.
One of Sharron's big commitments to herself was to work on love from the inside out and to be fully open and honest about what she most wanted and needed in a relationship. And, she wasn't going to "settle" for anything less than that level of honesty and transparency.
The relationship was on.
Then it was off (several times).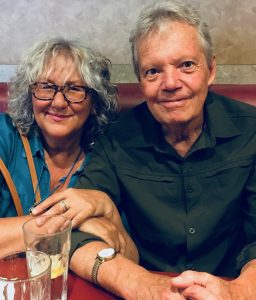 Then it was on again and eventually, it became clear that Sharron and Mike were meant to be.
Sharron says, "He thinks I have a beautiful body, even though I'm the most voluptuous I've ever been. He loves my art…but more than this…he loves my heart as he treats it so tenderly.
Mike says, "I feel like I just want to wrap myself around you and protect you from all the outside world and keep you safe."
Oh….SIGH…. isn't love grand?
Sharron and Mike are just more proof that finding Big Love is possible for everyone, regardless of age, weight, or failed relationships from the past. And….when you have clarity about what your soul is most calling for, YOU get your wants and your needs met with the right partner.
Wishing you love, laughter, and magical kisses,
Arielle
https://www.arielleford.com/wp-content/uploads/af-logo.svg
0
0
Arielle Ford
https://www.arielleford.com/wp-content/uploads/af-logo.svg
Arielle Ford
2018-08-07 06:00:09
2018-08-03 10:38:54
The Love Potion Enhanced by Art & Music