Pain vs. Suffering in Love
I have known the excruciating pain of heartbreak and lately I've been thinking a lot about the reality and concept of suffering and how the words "pain and suffering" are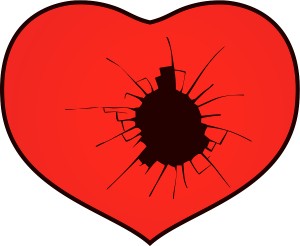 so often linked together. Having experienced a lot of both in my life, here's what I've learned so far: Pain is unavoidable, but do we have a choice about suffering?
Years ago, after a particularly bad breakup, I remember feeling as if a 747 jumbo jet had crash-landed in the middle of my chest. The pain was nearly unbearable and at times I felt like I would die. Crushed and hopeless, I wondered how I would survive.
I was indeed in pain and I was suffering.
Strange as it might sound, I am beyond grateful for that incident. It paved the way for the life I have today. Through that experience, I became clear about the traits and qualities I wanted in a soulmate and the level of commitment I desired in a relationship. The pain was real and unavoidable, but I now see that the suffering part might have been optional.
If (and I know this is a big IF), I had been able to understand that I was in the heart of a learning curve about love and relationships, and had I known that the pain would eventually dissipate and ultimately lead me to my greatest joy, then I think the suffering would have been a choice (at least to some degree).
I share this with you in the spirit of shining a light on whatever painful areas of your life you are now experiencing. You may want to write in your journal and begin a dialogue with your pain and see if you can find the future gifts it will bring you. Then ask the part of you that is suffering how and where you can find relief and even…..entertain the possibility of excitement about the future you can co-create with the Universe.
Want to try a Magical Manifesting Tool?  Click Here for the Love Mandala and magnetize yourself to Love: Send My Mandala
My new book Wabi Sabi Love is now available!  Finding your Soulmate is just the beginning.  Read how successful couples keep the soulmate fire burning.  Receive a priceless bonus bundle of advanced love attraction resources and techniques when you order your copy right here:   Wabi Sabi Love
https://www.arielleford.com/wp-content/uploads/af-logo.svg
0
0
Arielle Ford
https://www.arielleford.com/wp-content/uploads/af-logo.svg
Arielle Ford
2011-04-14 09:54:56
2012-04-07 21:22:13
Pain vs. Suffering in Love