My Guilty Pleasure (I Confess!)
When I need to unwind and relax, one of my favorite reality TV shows is SAY YES TO THE DRESS on TLC.
Even though we are about to celebrate our 13th wedding anniversary and I'm certainly not in need of a wedding gown, I just love watching this show. Maybe it's because I never did try on a "proper" wedding dress.
As an older bride (I was 44), I didn't want anything traditional or too trendy. So, I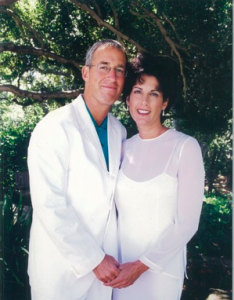 skipped the bridal boutiques and easily found two separate pieces at a little shop named Morgane Le Fay where I found a long white silk slip and a sheer tunic. I put them together and voila, I said yes to my dress.
Why do I watch this show? Two good reasons: Often by the time I do get in front of the TV it's late and there are mostly infomercials on and I find this show to be infinitely amusing. From the brides-to-be and their often too-opinionated friends and family, personalities range from charming to highly annoying. And, you can say the same about the sales staff. These gals are true New Yorkers, assertive, sassy and they know their inventory of 1700 dresses.
I am always surprised by how expensive the dresses are! Having spent a mere $750 on my dress, I often wonder, "does anyone really need one that costs $5,000- $20,000?" But, as a salesman at Tiffany's once said to me: "Madam, it's not about need, it's about want."
For those of you in the midst of manifesting a soulmate to marry, it's perfectly ok to also have a "wish list" around what kind of wedding your heart desires.
If it feels right, imagine yourself on your wedding day. Tune into how you feel inside your body.
Are you joyful? Excited? Blissed out? Nervous?
Now, imagine the setting. (for right now, only focus on the details  of the event, not "the One.")
Is it daytime or night? Are you indoors or outdoors? Are there lots of people or just a handful?
The details are fun to think about aren't they?
Here's the most important part of this exercise: As you dream up this special day, allow yourself to feel, as if it's really happening right now, all the delicious emotions of the event. Dive deep and luxuriate in the feelings knowing that you are one step closer to the day you say "I do."
If it is hard for you to FEEL your way into your future wedding, be sure to check out The Soul Mate Kit, you will find countless exercises to help you get over the obstacles and find your soulmate.
My new book Wabi Sabi Love is now available!  Finding your Soulmate is just the beginning.  Read how successful couples keep the soulmate fire burning.  Receive a priceless bonus bundle of advanced love attraction resources and techniques when you order your copy right here:   Wabi Sabi Love
https://www.arielleford.com/wp-content/uploads/af-logo.svg
0
0
Arielle Ford
https://www.arielleford.com/wp-content/uploads/af-logo.svg
Arielle Ford
2011-04-27 11:22:42
2012-04-07 21:22:07
My Guilty Pleasure (I Confess!)