Is Your Pet One of Your Soulmates?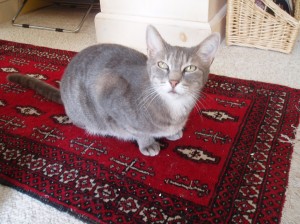 My definition of a soulmate is: someone you can completely be yourself with. Someone with whom you share unconditional love and when you look into their eyes you have the experience of being "home."
If you accept this definition, you can begin to acknowledge ALL the soulmates already in your life. It may be your kids, parents, siblings, friends, and co-workers AND it can also be your pets.
Not every pet is a soulmate, just as not every friend or relative feels like a soulmate, but when you have one, you know it. There is a special heart connection that is undeniable.
One of my feline soulmates, our beautiful heart chakra on paws, Sheba, left us this morning from stomach cancer. Sheba arrived in our back yard 9 years ago and adopted us. She was a BIG SPIRIT, a sweet indoor/outdoor explorer who lived in my office. She was my brilliant muse and companion. She had a passion for cashmere sweaters to sleep on and Brian spoiled her every day by providing a buffet of different tasty delights for her to eat. For a skinny cat she had a huge appetite. We are so grateful she chose us as her family and we knew she loved us as much as we loved her.
Take some time today to make a list of all the soulmates you already have in your life and think about ways to let them know how important they are to you.
One of the fastest ways to become magnetic to a romantic soulmate is to begin to appreciate all the love you already have in your life. Start sharing your love.
Wishing you love, laughter and magical kisses,
Arielle
https://www.arielleford.com/wp-content/uploads/af-logo.svg
0
0
Arielle Ford
https://www.arielleford.com/wp-content/uploads/af-logo.svg
Arielle Ford
2013-04-16 08:32:46
2013-04-15 18:35:07
Is Your Pet One of Your Soulmates?