Arielle Recommends: The Shadow Effect
Is your dark side making your choices and driving your behavior? Join my sister, Debbie Ford, Deepak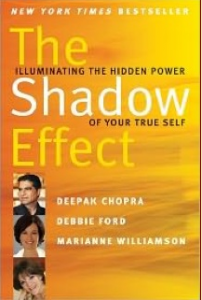 Chopra, and Marianne Williamson on a journey of transformation. Never before have these three New York Times bestselling authors joined together to delve into this most provocative and powerful inquiry.
The Shadow Effect will solve the mystery of why you do what you do. It will explain the hidden power of your unclaimed self and support you in returning to your true authentic expression. In The Shadow Effect, Deepak Chopra illustrates our dualistic nature and gives a prescription for wholeness.
Debbie Ford examines the birth of the shadow and the role the shadow has in sabotaging our success, relationships, diets, and dreams. And Marianne Williamson touches our hearts and minds with an exploration of the shadow and the soul.
This practical book is designed to support you in breaking free from repetitive patterns and self- defeating behaviors while illuminating your deeper heart and finding authentic compassion for yourself, others and the world.
The courage to reclaim all of yourself is already within you. Take this journey and reclaim your right to the life you were meant to live and be who you were meant to be. This book holds the power to transform your future.
Click here to order: The Shadow Effect
My new book Wabi Sabi Love is now available!  Finding your Soulmate is just the beginning.  Read how successful couples keep the soulmate fire burning.  Receive a priceless bonus bundle of advanced love attraction resources and techniques when you order your copy right here:   Wabi Sabi Love
https://www.arielleford.com/wp-content/uploads/af-logo.svg
0
0
Arielle Ford
https://www.arielleford.com/wp-content/uploads/af-logo.svg
Arielle Ford
2011-05-12 12:38:23
2012-04-07 21:21:06
Arielle Recommends: The Shadow Effect