The Pink Lemonade Solution
Sh*$ happens.
It comes in many forms: illness, money issues, breakups, loved ones pass on (even worse, sometimes it all happens at once)!
Since we can't control the ups and downs of life, we can discover empowering ways how to respond and react.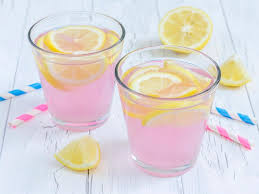 I've always loved that old saying, "When life gives you lemons, make lemonade!"
When I am confronted and challenged with these darker times, I like to make "pink lemonade" – it's about finding the blessings in the problem and also adding a huge dose of love to it.
Here's my recipe:
1.  I acknowledge the breath and width of the issue. I don't try to deny or suppress it, I let myself think about it, feel it and come up with coping strategies. But, I don't wallow in it.
2.  I find support from a family member or friend. Someone I can "vent" to but who will also help me look for the "gold in the dark."
3.  Creating a daily gratitude list keeps my attention on all the good in my life in spite of the current circumstances.
4.  I practice "living as if" where my actions reflect my belief that Universe always has my back. (I also call this being psychotically optimistic – a phrase from the beautiful Bela Gandhi.)
5.  SMILE. Science has shown that the mere act of smiling can lift your mood, lower stress, boost your immune system and possibly even prolong your life. My favorite technique is to stand in front of a mirror, smile and blow myself a kiss!
6.  Journal. I like to write and remind myself that I am a survivor and recount the past issues that troubled me, remember that I overcame (or survived) them and, in most cases, something really great came out of the experience.
SO, on your bad days, take those sour lemons, add in honey or stevia, and a big dose of love and let the "pink lemonade" soothe your soul.
Wishing you love, laughter, and magical kisses,
Arielle
https://www.arielleford.com/wp-content/uploads/af-logo.svg
0
0
Arielle Ford
https://www.arielleford.com/wp-content/uploads/af-logo.svg
Arielle Ford
2018-10-02 06:00:55
2018-10-01 10:30:53
The Pink Lemonade Solution