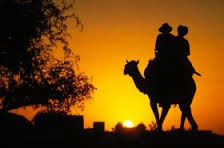 Claire and I just wrapped up our Secrets to Finding True Love online Series and it was jam-packed with enlightening and useful information on manifesting a soulmate.
For those of you dating online (or willing to finally START dating online because 2 out of 5 marriages now start online) I wanted to make sure you had this very important information from dating expert Evan Marc Katz.  Evan knows that one of the most important ways you can increase your chances of finding your soulmate online has to do with thespecific way you craft your profile.
He says the key is to "show not tell," and to understand the words you should absolutely NEVER use when describing yourself online.
Here's an excerpt from his "Finding 'The One' Online: How to Attract Quality Men and Understand Male Dating Behavior" seminar:
"Show me who you are, don't tell me who you are. Anybody can say 'I'm friendly. I meet people wherever I go. I'm one of the nicest people ever,' but that's just telling me what friendly means. You need to give me an example. 'Lunch ladies like me. I make friends with a bartender during a layover in Dallas.' That's the same as I'm friendly, right?
Don't say you're adventurous. Tell me you bungee jumped off a 300-foot bridge in New Zealand.
A profile should only be about 200 words long. You don't want to make it a long confessional, and I think that's one of the things that I see most with intelligent, earnest women who are looking for love.
They write something that's straight from their heart, and it's passionate, and it's spiritual, and any guy reading it, his eyes are going to roll back in his head because it's a complete expression of who she is. It's great if she wants to attract another woman, but she's not speaking guy language at all.
We're not talking about tool belts and football; it's about appreciating that what men are attracted to is often what they don't have themselves. They're looking for sweetness, lightness, nurturing, fun, playfulness, sexiness.
So when I have clients who sell themselves to me by giving me their core attributes on the phone and they'll tell me that they're ambitious and driven and tenacious and I'm like 'I want to hire you, but that's not why he's going to marry you.'
So I'm not going to say you shouldn't be those things and you can't still be those things at work, but if you're defining yourself as that, if you're going to tell me the reason he should be with you is because you ran a marathon last year, unless we're in a drought and you need to run for water, I'm not sure why that matters to him.
We're looking to play up her core qualities. So if she tells me family is important, we're going to throw in a line about families. If she tells me work's important, we're going to throw in a line about work. If she tells me travel's important, we're going to throw in a line about travel.
But it's going to be balanced. It's not going to be a whole bunch of one thing, because everybody has read an online dating profile with the scuba diving woman, right? Or the music woman and she lists her 700 favorite bands. So usually there's something funny at the beginning, sweet and heartfelt at the end, and it's a really quick ride in between."
Evan had so many helpful tips for dating-I wish I'd known about them when I was single!  If you want to hear more from Evan and the other relationship experts in the series, and get access to a just added special bonus on Tapping (something I use nearly everyday to relieve emotional turmoil), click here now.
Wishing you love, laughter & magical kisses,
Arielle
P.S. This is Your Last Chance to Own The Secrets to Finding True Love at 50% Off!  Don't wait! Special Event 50% Discount ends Oct 2nd. Learn More Here.
https://www.arielleford.com/wp-content/uploads/af-logo.svg
0
0
Arielle Ford
https://www.arielleford.com/wp-content/uploads/af-logo.svg
Arielle Ford
2014-09-30 06:00:00
2014-09-25 18:31:19
The #1 Dating Mistake