This Is The Way To Overcome Doubt
Lately, the question I am hearing most often is, "How do I overcome my doubt that I will ever find my soulmate?"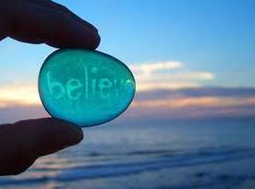 First I would ask you to determine: is this a random thought, a random doubt or do you have a serious "belief" that you will never find your soulmate?
It's important to make this distinction. As human beings, it's normal to have occasional doubts but, if your core belief is you won't find your soulmate, this is something that you need to overcome.
When I have a doubt about something, I choose not to buy into. I say to myself "cancel-cancel" and then select a more empowering thought.
For instance, you have the doubt, "I'll never find my soulmate."
Change that to "My soulmate is not only out there but he/she is actively seeking me as well and soon we will be together."
When I have a "belief" about something, I look to see what feeling is attached…is it Fear? Anxiety? It is possibly an intuitive warning to look more closely at something?
Then I will imagine a "worst case scenario" which usually helps me see the issue with perspective, immediately reducing any fear or self-doubt.
Next I begin to investigate the belief. Is it true? Where did it come from? Am I willing to change my belief? If not, what is my payoff for holding onto this belief?
Our beliefs shape our lives and become self-fulfilling prophecies. If we believe we "can't," then we get to be right – we can't.
This can send you in a repeating mental trap if you are not careful. Catching yourself when you are mumbling self defeating doubtful thoughts is the goal. The "Cancel Cancel" mantra seems simplistic but it does work. Interrupt your habitual thought pattern and your life will surely change.
PS My new You Tube Channel is now live. Check out the new Wabi Sabi Love Video Channel : youtube.com/lovewabisabi and thanks for sharing it with your friends and family!
My new book Wabi Sabi Love is now available!  Finding your Soulmate is just the beginning.  Read how successful couples keep the soulmate fire burning.  Receive a priceless bonus bundle of advanced love attraction resources and techniques when you order your copy right here:   Wabi Sabi Love
https://www.arielleford.com/wp-content/uploads/af-logo.svg
0
0
Arielle Ford
https://www.arielleford.com/wp-content/uploads/af-logo.svg
Arielle Ford
2012-01-20 05:16:28
2012-04-09 13:59:50
This Is The Way To Overcome Doubt