Martha Stewart's Love Life!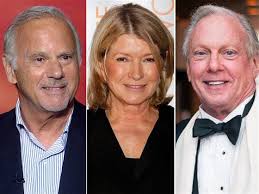 Many The other day I was working out on my elliptical machine, channel surfing, when I came across the TODAY SHOW. Matt Lauer was interviewing Martha Stewart, 71, about her love life. Martha is now hoping to meet Mr. Right with and has put up her profile up online. She was on the show to meet the two men she narrowed down from a pool of 1,000 of bachelors she connected with on Match.com.
The two men are Larry and Stan, both 68 and divorced.
Larry, an international steel trade executive, describes himself on the site as a "romantic above all" who craves "the intimacy of a one-on-one relationship."
He told Matt Lauer that he shares Stewart's feelings about looking for love at a certain age.
"When I read the profile, she expressed the same feelings that all of us this age have, a lot of trepidation and the fear of it – and we're usually not afraid of much," he said.
"But then when she said the learning, curiosity, adventure: That's really what we're looking for."
Both men professed a love of sports, cultural events and being social – a must for any guy who wants to keep up with Stewart.
Stewart's profile brought a staggering 20,000 page views to Match.com after she announced she'd joined the site under the handle "thegoodlonglife."
She stressed that the profile is no joke, and her search for love is genuine. The men will follow up their very public introduction by taking her on individual dates.
"None of these have been set up. None of this is fake," she said on "Today." "I just want everybody to know that because I want other women in a similar situation to mine to realize that it can be done."
What I really love about this story is that Martha, in spite of her fame and fortune, is making a bold stand for herself to find love. If Martha can do it, you can do it!
On Thursday, I am offering a free teleseminar where I am going to reveal 3 proven techniques to manifest love. I hope you will join me….you can sign up here.
Wishing you love, laughter and magical kisses,
Arielle
https://www.arielleford.com/wp-content/uploads/af-logo.svg
0
0
Arielle Ford
https://www.arielleford.com/wp-content/uploads/af-logo.svg
Arielle Ford
2013-05-14 08:13:11
2013-05-13 14:16:50
Martha Stewart's Love Life!