Writing a novel was never on my To-Do List.
Here's what happened: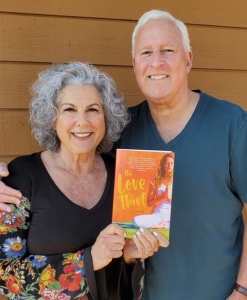 One day, as a joke, Brian suggested I write a book about him entitled "My Husband Is an Alien." Even though he was kidding, I started thinking about what a book about him might look like. I often refer to Brian as a heart chakra on legs because he is a very loving, kind, wise and softspoken man who believes his purpose in life is to make sure everyone he comes in contact with has the experience of being loved.
And then I dismissed the whole idea as preposterous because I really didn't want to write another book.
A few days later the first line of a book, "My mother was right" began to haunt me.
And then a movie began to unfold in my mind, showing me the arc of a story of this never-going-to-happen book. A book about a single woman who has her heart broken and her dreams crushed by a toxic narcissist and ends up finding hope and healing in India with the help of a retired psychologist/spiritual bookstore owner with Brian's personality.
Then I got an email from Masterclass.com promoting a course with Dan Brown on "how to write a thriller." As a crazed fangirl of Brown's, I signed up for the Course, just for fun.
In the meantime, the movie in my head began to show me scenes and images of Rishikesh, India as the pre-dominant setting of the book I was never going to write.
I did my best to ignore it all.
Video #3 of the Dan Brown course was on the topic of "location as a character in the book" in which Brown went into great detail about the importance Florence, Italy played in the DaVinci code.
The movie in my head continued and became more detailed with each day, now with images of Rishikesh (which I had visited on previous trips to India) weaving themselves into the mix.
And I really, truly did not want to write another book, especially one that seemed to be a novel.
So, I had a conversation with God.
"Ok God. If I am supposed to write this book, I will need to go back to Rishikesh for research, and for that I will need a roundtrip business class ticket (about $7k), so feel free to have one land in my lap."
With that I felt relieved that this whole write a novel nonsense was over.
Two days later I ran into an old friend and who asked me what I was up too, and I inadvertently blurted out,
"I'm trying to manifest a trip to India."
"When," he asked.
"Early December."
He looked at the calendar on his phone and then, with a big smile, said:
"I'll take you. We had a blast last time we went to India."
OMG! Ticket manifested. So, I packed my bags and headed to Rishikesh for a week of research that was filled with magic and finding the locations of the scenes in my movie- filled head.
Now four years later, this book that I resisted writing, The Love Thief, is scheduled for publication on June 27th.
The Love Thief is a story of love, betrayal, and unexpected transformation with a juicy revenge sub-plot and a surprise ending.
Not only is this a book, but top Hollywood producer Suzanne Todd, whose films have grossed more than $3 billion (Austin Powers, Bad Moms, Alice in Wonderland with Johnny Depp), is developing The Love Thief for a streaming series. She describes the book as Eat, Pray, Love meets Dirty John!
To entice you to pre-order the book, I've created a unique and original bonus item: 10 exclusive Heart Healing Yoga videos. Each video features a well-known yoga instructor, like Seane Corne, demonstrating yoga philosophy and poses to transform and heal the strong emotions experienced by the books' heroine, Holly. They include Grief, Anger, Heartache, Betrayal, Uncertainty, Connecting to the Divine, Love, Gratitude, Forgiveness, and Overcoming Suffering.
I would be so grateful if you would pre-order a copy today and get instant access to the free Heart Healing Yoga Video series www.thelovethief.com.
Wishing you love, laughter and magical kisses,
Arielle
P.S. Just getting the HEART HEALING Yoga Bonus Video Series alone will heal and change your life. Pre-order now and get instant access to this exclusive series. (Please feel free to forward this to your friends) www.thelovethief.com.
https://www.arielleford.com/wp-content/uploads/af-logo.svg
0
0
Arielle Ford
https://www.arielleford.com/wp-content/uploads/af-logo.svg
Arielle Ford
2023-04-11 09:00:59
2023-04-10 09:24:46
It's all Brian's fault