The Secret I've Been Keeping from You
I confess…
I've been keeping a secret from you.
For the past 4.5 years I've been writing a novel.
After 11 non-fiction books, this story came to me like a movie in my head and no matter how hard I tried to ignore it, The Love Thief insisted on being written!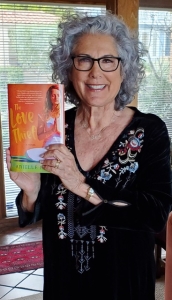 I haven't told you about it because I never really thought I would finish it. Turns out writing fiction is a zillion times harder (for me) than writing non-fiction. The learning curve was extreme, and I am both thrilled and excited with how it turned out.
The Love Thief is transformational women's fiction (inspired by actual events) about a woman who survives having her heart broken and her dreams crushed — until KARMA intervenes! The story spans the gamut of extreme emotions from love, betrayal, rage, suspense, mind-blowing mystical experiences and much more. And it takes place in Rishikesh, India.
Not only is this a book, but top Hollywood producer Suzanne Todd, whose films have grossed more than $3 billion (Austin Powers, Bad Moms, Alice in Wonderland with Johnny Depp), is developing The Love Thief for a streaming series.
She describes the book as Eat, Pray, Love meets Dirty John!
And I've created a unique and original bonus item for those of you who pre-order the book:
Pre-ORDER the BOOK Now to get the HEART HEALING Yoga Bonus Video Series on transforming: Love, Grief, Anger, Heartache, Suffering, Uncertainty, and much more featuring today's top yoga instructors including Seane Corne at www.thelovethief.com.   
Some advance praise:
"The Love Thief is a rip-rollicking spiritual love story that leaves you gasping with all the feels and clamoring for the sequel. Complete with a narcissist villain and magnetic healers and sages, what a tale Arielle Ford has cooked up as she guides us on a delicious trip to magical India. The Love Thief is a must read."
– Sheri Salata, former Executive Producer of The Oprah Show
"The Love Thief is an illuminating ride through one woman's fairy tale romance that becomes a nightmare of heartbreak and betrayal. The heroine discovers what it takes to heal a broken heart, pick up the pieces of a broken life, and move forward to find purpose, peace, and love. Well done, Arielle! Thank you for the many reminders."
– Iyanla Vanzant, author, Spiritual Life Coach,
Executive Producer of Iyanla: Fix My Life
"This is a captivating and emotional journey where you'll finish so completely satisfied, you'll want a hypothetical cigarette."
– Natalie Ledwell, bestselling author and co-founder of MindMovies.com
The Love Thief is not just another story of heartbreak and disappointment. It's a story of healing, adventure, resurrection, heart-opening love, revenge, transformation, and ultimately discovering that the worst things that happen to you can become the best. Plus, it's a guaranteed page turner that will captivate conscious men and women who enjoy romance, travel, mystery and mystical experiences.
I'm hoping The Love Thief will be this Summer's #1 beach read!
I would be so grateful if you would pre-order a copy today and get instant access to the free Heart Healing Yoga Video series www.thelovethief.com.
Wishing you love, laughter and magical kisses,
Arielle
P.S. Just getting the HEART HEALING Yoga Bonus Video Series alone will heal and change your life. Pre-order now and get instant access to this exclusive series. (Please feel free to forward this to your friends) www.thelovethief.com.
https://www.arielleford.com/wp-content/uploads/af-logo.svg
0
0
Arielle Ford
https://www.arielleford.com/wp-content/uploads/af-logo.svg
Arielle Ford
2023-04-04 09:00:57
2023-04-03 11:33:54
The Secret I've Been Keeping from You