My Mind-blowing, Mystical Experience
If you've been reading my newsletter regularly, you now know that my debut novel, The Love Thief is a story of love, betrayal, and unexpected transformation with a juicy revenge sub-plot and a surprise ending. What you don't know is the crazy story about the cover art!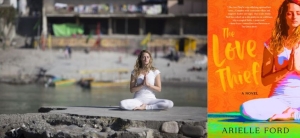 Yesterday I received a very unusual email from a woman named Monja which said:
"A friend of mine, Tatyana, is a friend of one of your friends, and she recently showed me your new novel online and mentioned that my picture is on your cover.
When I went to your website, www.thelovethief.com I was SHOCKED. That really is me on the cover! And your book is LITERALLY a story of mine. A few years ago, I was living and teaching yoga in Rishikesh at Sattva Yoga Academy. I went from my country in Serbia to India, crushed, heartbroken, and devastated from my narcissistic love story, and while in Rishikesh I underwent a deep healing process.
So, not only did you choose a picture of me taken the year when I was most broken, but the content story in the book is the same! And I thought: Wow, this Universe is really having some fun out here. I am still shocked."
I got the biggest goosebumps as I read this and then scrolled to the bottom of her email to see the original photo of her in Rishikesh.
Immediately, I forwarded the email and photo to my cover designer, Laura Duffy (www.lauraduffydesign.com). I never had any solid ideas about cover art, so I asked Laura to use her creative genius and process. She explained that after she read my manuscript and was dreaming up cover design ideas, she searched a photo stock agency for images of a woman in Rishikesh doing yoga. She then significantly enhanced the photo into the cover image (all properly licensed of course). When I saw it, it was love at first sight!
There are more than 8 billion people in the world. I don't know anyone in Serbia. What are the chances that a friend of mine, has a friend, who knows (and recognized) Monja? It's just so mind-blowing and synchronistic, especially since Monja and my heroine Holly, BOTH survived and healed from heartbreak from a toxic narcissist. You can't make this stuff up.
During my writing process I had about a dozen friends/early readers who shared with me that they were convinced that I had written The Love Thief specifically for them. Unfortunately, betrayal and heartbreak are too common which is one of the reasons I wrote the book so that women could understand what happened to them and find healing and solace, hope, and possibility.
To entice you to pre-order the book (publication date is June 27), I've created a unique and original bonus item: 10 exclusive Heart Healing Yoga videos. Each video features a well-known yoga instructor, like Seane Corne, demonstrating yoga philosophy and poses to transform and heal the strong emotions experienced by the books' heroine, Holly. They include Grief, Anger, Heartache, Betrayal, Uncertainty, Connecting to the Divine, Love, Gratitude, Forgiveness, and Overcoming Suffering.
I would be so grateful if you would pre-order a copy today and get instant access to the free Heart the Healing Yoga Video series www.thelovethief.com.
Wishing you love, laughter and magical kisses,
Arielle
P.S. Just getting the HEART HEALING Yoga Bonus Video Series alone will heal and change your life. Pre-order now and get instant access to this exclusive series. (Please feel free to forward this to your friends) www.thelovethief.com.
https://www.arielleford.com/wp-content/uploads/af-logo.svg
0
0
Arielle Ford
https://www.arielleford.com/wp-content/uploads/af-logo.svg
Arielle Ford
2023-04-18 09:00:57
2023-04-24 10:23:39
My Mind-blowing, Mystical Experience