Lately I've been thinking a lot about faith and trust….and asking myself, how much of it do I really have? And, what does it take to have 100% faith and trust that my life is unfolding exactly as it should?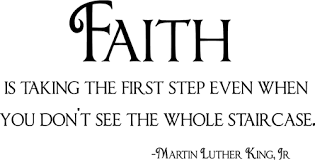 As someone who has had ongoing success implementing the Law of Attraction, I sometimes wonder if my desires arise because part of me already knows what is coming, or…do I influence what is coming because I create the conditions for it to arise?
Maybe it's a little of both!
Here's the part I know for sure: once I drop my desire into the Universal soup, it's time to surrender and trust that what I have asked for IS ALREADY MINE.   So, wherever you are in your manifesting process….don't forget this piece of the pie.
Mother Nature knows how to do her job.  You wouldn't go pulling on the leaves of your tomato plant at 3:00am saying to it "grow faster, grow faster" now would you?
Here are a few of my favorite quotes on this topic:
"Faith is to believe what you do not see; the reward of this faith is to see what you believe."
-Saint Augustine
"Faith is believing that the outcome will be what it should be, no matter what it is."
-Colette Baron-Reid
"Faith is an oasis in the heart which will never be reached by the caravan of thinking."
-Khalil Gibran
"Faith is the bird that feels the light when the dawn is still dark."
-Tagore
Practicing "faith" takes a bit of discipline…we need to stay aware of our thoughts and beliefs and not let our monkey mind get the best of us. As a constant reminder, I've recently put a post it note on my computer that says "Got Faith?"  Yay!
Wishing you love, laughter and magical kisses,
Arielle
P.S. Single and don't want to be?  If so, please join me at the Omega Institute, Rhinebeck, NEW YORK – July 10-12th for The Soulmate Secret workshop that will give your love life a power boost! This stunning, rural retreat center, two hours north of NYC, is the ideal environment to go deep and the work  shop goes beyond the book and includes new transformative feelingizations and a fire-ritual to kick start your love life into high gear! Register here!

https://www.arielleford.com/wp-content/uploads/af-logo.svg
0
0
Arielle Ford
https://www.arielleford.com/wp-content/uploads/af-logo.svg
Arielle Ford
2015-04-28 15:48:10
2015-04-28 15:48:10
Got Faith?