Best Ways To Be Your Biggest Cheerleader
They say we teach what we most need to learn and lately that has been true for me. I have decided to tackle a new project…I am calling it my "creative challenge," and it is SO BIG and so intimidating to me that I am not sharing it with anyone… just yet.
Every day, as I carve out time to work on this project, I am confronted by a ton of thoughts of why I can't do it, why it's impossible, etc., and then I spend a bunch of time diving into my spiritual tool kit to off load the negative thinking.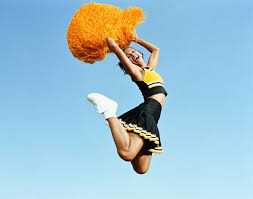 Needless to say, the project is moving at a snail's pace.
It's so easy to let the negative monkey mind chatter take over and I've had enough of it so here is my new commitment.
Today I am reminding myself of three very important things I seem to have forgotten:
One: I am reinstituting my formerly daily practice of ending each day reviewing something I did really well and acknowledging myself for it.
Second: At least once a week I am going to share the week's biggest accomplishments with a friend. (I always tell Brian what I am doing, right and wrong, but it will be useful for me to share with someone else as well. If I can't be proud of what I am up to then who will be?)
Third: I am dreaming up the "push presents" I will give myself as I reach each milestone along the way to making the creative challenge happen.
How are you going to be your own biggest cheerleader?
Wishing you love, laughter and magical kisses,
Arielle
p.s. LAST CHANCE:  If meeting your soulmate/lifepartner is a priority for 2019, then I invite you to come spend the weekend with me at the stunning and serene 1440 Multiversity retreat center (near San Jose, CA) Feb. 8-10, and lets fast track your road to love!
https://1440.org/programs/personal-development/the-soulmate-secret-2/
https://www.arielleford.com/wp-content/uploads/af-logo.svg
0
0
Arielle Ford
https://www.arielleford.com/wp-content/uploads/af-logo.svg
Arielle Ford
2019-01-22 06:00:41
2019-01-21 07:53:19
Best Ways To Be Your Biggest Cheerleader