Before You React, Reflect!
This morning I came across a colleagues name and that reminded me that she had not responded to my last three emails, which were requests for assistance on something that she easily could have said no to.  I felt myself getting angry, and feeling dissed, and then my imagination began thinking up ways to trick her into responding just to prove that my emails were going through and she was purposely not responding.
Instead of doing something hurtful, I did some tapping, some breathing, and then I got the message below from my friend Madisyn Taylor of DailyOm.   This was exactly what I needed to be reminded of, just at the right moment, so thought I  would share it with all of you:
 "We have all had the experience of reacting in a way that was less than ideal upon hearing bad news, or being unfairly criticized, or being told something we did not want to hear. This makes sense because when our emotions are triggered, they tend to take center stage, inhibiting our ability to pause before we speak. We may feel compelled to release the tension by expressing ourselves in some way, whether it's yelling back at the person yelling at us, or rushing to deliver words of comfort to a friend in trouble. However, there is much to be said for teaching ourselves to remember to pause and take a deep breath before we respond to the shocks and insults that can come our way in life.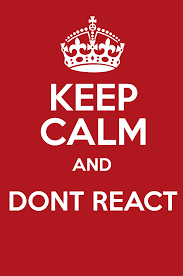 For one thing, our initial response is not always what's best for us, or for the other people involved. Reacting to childish rage with childish rage will only escalate the negativity in a situation, further ensnaring us in an undesirable dynamic. Similarly, when we react defensively, or simply thoughtlessly, we often end up feeling regret over our words or actions. In the end, we save ourselves a lot of pain when we take a deep breath and really tune in to ourselves, and the other person, before we respond. This doesn't necessarily mean we don't say anything, although in some cases, that may be the best option.
Some situations require a fairly immediate response, but even just a moment of grounding ourselves before we do so can help enormously. The next time you find yourself wanting to react, try to pause, and in that pause, take a deep breath. Feel your feet on the floor, the air on your skin, and listen for a response to arise within you, rather than just going with the first thing that pops into your head. You may find that in that moment, there is the potential to move beyond reaction and into the more subtle and creative realm of response, where something new can happen."
If you would like more wisdom from Madisyn Taylor, know that she is a Billboard recording artist and international best-selling author and co-founder and editor-in-chief of the popular inspirational website www.DailyOM.com responsible for all its content. Her newest award-winning book from Simon & Schuster is: Unmedicated The Four Pillars of Natural Wellness which documents her journey through anxiety and depression and how she became whole again.
Wishing you love, laughter and magical kisses,
 Arielle
P.S. Meet Me in Chicago or Big Sur, CA– I will be in Chicago at the Infinity Foundation for The Soulmate Secret LIVE workshop Saturday, April 27th  and I will be teaching at the breathtakingly beautiful Esalen weekend of  May 8-10. Details here: https://www.arielleford.com/events/
https://www.arielleford.com/wp-content/uploads/af-logo.svg
0
0
Arielle Ford
https://www.arielleford.com/wp-content/uploads/af-logo.svg
Arielle Ford
2019-03-26 06:00:19
2019-03-25 06:07:49
Before You React, Reflect!