3 Beliefs That Men Find Irresistible In a Woman
In this day and age of digital dating and limitless options to meet people, it can feel impossible to stand out from the crowd.
YOU are a unique, amazing individual and when you own this fact and learn how to radiate your best qualities, you are sure to separate yourself from the rest.
Many women don't realize that it's not the surface-level things that make a man incredibly attracted to you, but rather the beliefs you possess about life, your attitude about yourself, and the fun, authentic self-confidence that comes from a place of true self-love.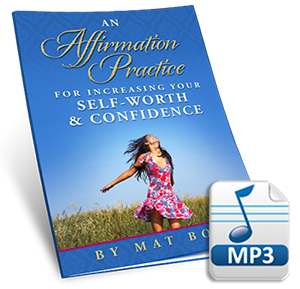 There are three beliefs in particular that men find irresistible and are sure to not only set you apart from other women but will aid you in attracting a genuine, connected relationship.
#1 Belief of an Irresistible Woman – "I am worthy of great love"
A woman who owns her worth and believes she deserves respect and authentic love is incredibly attractive to a man.
When a woman does not believe herself to be "enough" (pretty enough, thin enough, smart enough, etc.) she sends out a subconscious signal that lowers a man's perception of her and deflates his attraction.
Rather, the woman who believes she IS worthy of a great love radiates a vibrancy of high value and self-respect, and this makes a man want to rise to the challenge of being good-enough to win her heart.
Now I know owning your true worth might feel difficult at times, and to help you tune in to and tune-up your self-love, my amazing friend and dating expert, Mat Boggs, has created a Self-Love Activation Kit as a gift from me to you.
Download your free kit here to kick that inner self-critic to the curb and feel a deeper self-love than ever before.
#2 Belief of an Irresistible Woman – "Love can be easy"
This is important! It can hard to remain optimistic when date after date has been a dead-end.
But when you focus your mind on the belief that love can be easy, it puts you in a relaxed, fun, best-self state-of-being — a state where you're not trying too hard or sabotaging yourself, but rather enjoying moments of connection and letting the love flow into your life with ease.
#3 Belief of an Irresistible Woman – "The best is yet to come"
Finally, the third belief of an irresistible woman is not about where they've been or there struggles of the past.
Instead, it's about where they are going, the knowing that there is more adventure and love out there, and their willingness to seize each moment and day with a zeal for life.
When you believe that there's more fun to be had, you're infectious and fun to be around, and a man will find that incredibly attractive.
Now, **WARNING** these three beliefs will not only aid you in living a life filled with love, adventure, and connection…
But might bring your man into your life sooner than you thought!
Because there's nothing that stands out more than a woman who embraces her unique qualities and limitless potential…
And has a BLAST doing it.
Don't forget to grab your free copy of the Self-Love Activation Kit so you can align with the vibration of love even more and start living the life you've always dreamed of.
Wishing you love, laughter and magical kisses,
Arielle
https://www.arielleford.com/wp-content/uploads/af-logo.svg
0
0
Arielle Ford
https://www.arielleford.com/wp-content/uploads/af-logo.svg
Arielle Ford
2018-12-11 06:00:56
2018-12-04 10:04:07
3 Beliefs That Men Find Irresistible In a Woman