What I'm Streaming & Binging Now
One of my near daily pleasure puppy activities is to hang out and watch TV just for the sheer joy and entertainment of it. Not only do I find it pleasurable, its relaxing and sometimes even feels a bit decadent, depending on the show.
Here are some of my recent favorites:
YOUNGER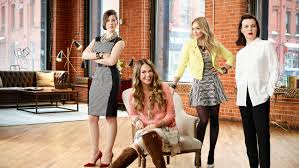 Mega producer Darren Star, who brought us Sex and the City, has a series on Hulu that brings together hot, sexy, sassy young women in NYC who work in publishing.
The lead character is a 40-year-old divorcee who gave up her dreams job in publishing for marriage and to raise her daughter. When her husband gambles away all their money and has an affair, she is suddenly broke and alone. Her attempts to get back into publishing are impossible because of the long gap in her work life and the youth culture of the entry level jobs. Fortunately, she looks much younger than 40 and presents herself as 26 and lands a plum position as a marketing assistant.
She now has to play catchup to fit in with 20-something co-workers with while trying to please an impossibly bitchy middle-aged boss who is on parr with Meryl Streep's character in The Devil Wears Prada. It's a smart, and funny rom-com.
100 Foot Wave (HBO)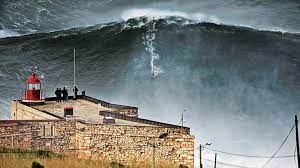 This docuseries is a heart thumping deep dive into the sport of Big Wave Surfing, following the discovery of the world's largest waves in Nazare, Portugal and the men and women who attempt to ride and survive them.
Fantastic cinematography and a thoughtful reveal of the psyche of these extreme athletes and how they survive physically and emotionally. Really captivating even if you have never surfed.
Grace and Frankie (Netflix)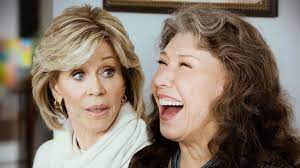 Season 7 is live now with Jane Fonda and Lily Tomlin, gal pals, besties, and business partners. If you haven't ever watched this, the story line is two couples, long-time friends divorce when the husbands (Martin Sheen and Sam Waterston) reveal they have been lovers for decades. The men marry and the women become roommates, as they re-envision their lives as senior citizen single women.
Love seeing Jane's evolution this season as she is beginning to question just want KIND of marriage she wants and needs with her new, younger husband.
StartUp (Netflix)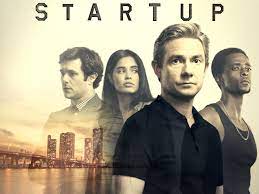 A high finance maverick, a young Latina/Cuban coder who has invented the next, better, Bitcoin and a Little Haiti drug lord become unlikely business partners in this Miami based drama. Miami Vice was a provincial walk in the park compared to these well-developed characters who sometimes have you rooting for the bad guy.
It's gritty and violent and unpredictable.
Wishing you love, laughter, and magical kisses,
Arielle
https://www.arielleford.com/wp-content/uploads/af-logo.svg
0
0
Amber Miller
https://www.arielleford.com/wp-content/uploads/af-logo.svg
Amber Miller
2021-08-17 09:00:05
2021-08-16 12:17:05
What I'm Streaming & Binging Now