Spend the Weekend with Me to Manifest Big Love
What I am about to say is going to shock or surprise you and yet I know for sure it's true:
It has never been easier than it is today to manifest your soulmate.
There is no shortage of love in the world.
There is no shortage of people looking for life partners.
Big Love is possible for you and it requires knowing how to prepare your mind, body, soul and spirit for love, and MOST IMPORTANTLY, becoming a willing and active participant in your love life.
While many singles have had the experience that it's "hard" or even "impossible" to find the ONE, I have a proven track record with my Soulmate Secret technique that truly works to manifest the love of your life.
We all have different learning styles. I learn fastest when I am in person with someone who is teaching me something new.
Watching videos doesn't seem to work for me and while I can listen to audios, I tend to start drifting after 20 minutes (or less).
If meeting your soulmate/lifepartner is your #1 priority, and you are willing to invest one weekend of your life (in an actual paradise) to learn how to make it happen, then plan on joining me at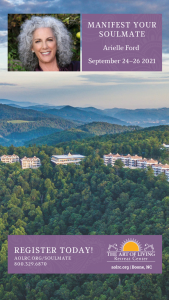 stunning and serene Art of Living Center in Boone, NC September 24 – 26 and lets fast track your road to love!
This workshop goes way beyond the book and includes my newest and latest research on how to date and mate.
You already know that what you put your attention on grows.
When you spend an entire weekend focused on love, in a fun, inspiring, and uplifting space, you will shift your belief system and discover the techniques to magnetize the love of your dreams.
If your soul is calling for Big Love, come spend a magical weekend with me to make it happen!
Wishing you love, laughter, and magical kisses,
Arielle
p.s. During this weekend we will cover:
Releasing Limiting Beliefs
Becoming a powerful Love Manifestor
Understanding & bringing out the best in Conscious Men
Dating strategies for success
Powerful rituals and a firepit ceremony
Mastering the Skills of Lasting Love
(and so much more!)
Let me guide you out of limiting beliefs, into possibility, and finally into the arms of your beloved.
https://www.arielleford.com/wp-content/uploads/af-logo.svg
0
0
Amber Miller
https://www.arielleford.com/wp-content/uploads/af-logo.svg
Amber Miller
2021-05-03 09:00:26
2021-05-07 12:24:37
Spend the Weekend with Me to Manifest Big Love