LOVE ADVICE from Indian Matchmaking on Netflix
I spent the weekend binge-watching Season 3 of Indian Matchmaking on Netflix.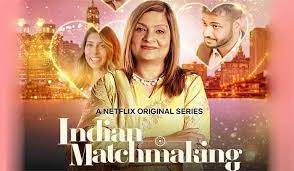 As a self-proclaimed Indophile and a student of love, for me the show is a colorful and sometimes useful concoction of entertainment and sage advice.
The star and matchmaker, Sima Aunty, works with single men and women (all over 30, sometimes over 40) ready to settle down and to find a soulmate/life partner for her clients.
At each initial meeting, the client is surrounded by his or her family (generally parents and siblings) as Sima Aunty discerns the "must have" desires of the client.) It's generally less than 10 items and then she begins searching her "biodatas" to handpick potential dates.
What I love about this part is the clarity of what is most wanted, and the way Sima Aunty continuously forewarns them that they won't get 100% of what they are asking for and getting 60% should be sufficient for a long-term happy marriage.
She also frequently has to remind her clients that they need to let go of expecting "love at first sight" and to give people a few chances to show their potential before writing them off.
All of the singles on the show are of Indian descent although many are American born.
This season the action takes place in New Delhi, Mumbai, London, Miami, and Davis, CA.
It's fun to observe the first dates (and sometimes beyond) to watch the in-the-moment, and often awkward, action. The producers insist that none of the show is scripted.
With decades of experience as one of India's premiere matchmakers, Sima Aunty offers guidance and counsel to her often stubborn and sometimes unrealistic singles. When needed, she calls in additional experts including therapists, coaches, tarot card readers and psychics to help heal some love blocks and let go of limiting beliefs.
If you are single, and decide to watch, don't be surprised if you recognize some of your own challenging behavior. (if you find yourself judging any of the clients, that may be your own projection of something you do!)
Wishing you love, laughter and magical kisses,
Arielle
https://www.arielleford.com/wp-content/uploads/af-logo.svg
0
0
Arielle Ford
https://www.arielleford.com/wp-content/uploads/af-logo.svg
Arielle Ford
2023-04-25 09:00:59
2023-04-24 10:23:15
LOVE ADVICE from Indian Matchmaking on Netflix