Arielle Recommends: Monkey See, Monkey Do
If you're like most single women nowadays, you've probably tried online dating. You may even have a profile posted right now, on any number of the growing number of online dating sites.
Nearly EVERYONE is online these days and just about all of us at this point know someone who met a great man online…maybe even married him.
One of my friends who DEFINITELY fits that description is Emily McKay.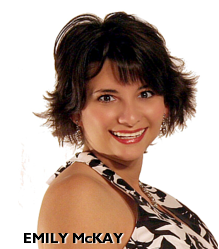 You may have heard about her already. She's the hostess of the popular "X & Y On The Fly Dating Podcast" and even has her own monthly audio series called "Keys To Bliss".
If you've listened to one of her podcasts, you already know that her friendly, upbeat and vivacious personality is absolutely infectious. When you listen to her, it's like you're chatting with one of your best girlfriends!
Well, Emily recently announced the release of a new program she calls "Click With Him".
If you ask me, my first reaction to this is to ask, "What took you so long, Emily?"
You see, Emily did indeed meet the man of her dreams…ONLINE. And that lucky guy happens to be none other than Scot McKay—a guy who is well-known in the world of dating advice as a guy who teaches men and women how to "never, ever settle" by deserving what they want in a partner.
So I'd say Emily is probably someone worth listening to. After all, she ended up with the man who literally wrote the book on how to be the most amazing partner possible.
I've had the chance to get a "sneak preview" of Emily's Click With Him program and let me tell you…I can safely say there's never been any program like it…ever.
For starters, when was the last time you discovered over TEN HOURS of non-stop teaching on how to make online dating work for you…all in one place?
And Emily has covered every single angle you can think of…and probably have wondered about.
She starts by setting a complete foundation for how to become the kind of woman who MEN ARE LOOKING FOR online, which I think is a great place to start indeed.
Then, she spends a lot of time on a concept that I think is absolutely RIGHT ON: How to get THE RIGHT MAN interested in you instead of just ANY MAN.
I think lots of women have experienced what it's like to throw a profile up there and have that initial thrill of seeing e-mails and "winks" fill our inbox.
BUT…after sorting through the pile of messages, it can be a real letdown. Where are all the GREAT men? You know…the masculine, confident ones with ambition and a sense of romance. And you'd think that guys would have figured out how NOT to be creepy in their first e-mails and profiles…guess not!
Well, Emily has been there herself and shares AMAZING secrets for attracting and (of course) MEETING the very best men online…and there are LOTS of them.
And of course there's a complete section on how to "makeover" your profile, including how to have stunning pictures and a great narrative section.
But here's the part that really KNOCKED MY SOCKS off…
Emily met the man of her dreams in LESS THAN THIRTY DAYS online. AND…she believes YOU CAN TOO. She's ready to share her 30-DAY PLAN for finding a great man online with YOU…RIGHT NOW.
Isn't it great when someone can actually back a claim like that with REAL RESULTS? She could have stopped there and Click With Him would still have been an absolute MUST for any woman who is online.
But just for good measure, Emily added in complete sections on how to pick the right dating site, how to make the best use of niche sites and—yes—a full program on everything you need to know about online dating safety (which is sure to surprise you).
Plus, she has invited some great guests to join her for Click With Him…including Scot, who shares some shocking insight into what online dating is REALLY like for most guys out there, and how YOU can benefit from that information! See, I told you there's really nowhere else you're going to find this level of info…who else is married to a fellow online dating coach?
There's much more I could tell you, but the best idea is to check it out for yourself. Sign up for Emily's great newsletter for women and read all about Click With Him.
When I was young my Dad always told me the best way to learn was what he called "monkey see, monkey do." Watch someone else who is successful and mimic their process. He was right. So my advice to you is to check out Emily's program. You will learn what worked for her and thousands of others.
When you get Click With Him, be sure to send me all your success stories. I'd love to hear them!
My new book Wabi Sabi Love is now available!  Finding your Soulmate is just the beginning.  Read how successful couples keep the soulmate fire burning.  Receive a priceless bonus bundle of advanced love attraction resources and techniques when you order your copy right here:   Wabi Sabi Love
https://www.arielleford.com/wp-content/uploads/af-logo.svg
0
0
Arielle Ford
https://www.arielleford.com/wp-content/uploads/af-logo.svg
Arielle Ford
2010-09-22 12:15:10
2012-04-07 21:23:38
Arielle Recommends: Monkey See, Monkey Do