How's Your Love Life? (& other annoying questions)
With the holiday season just hours away, it's likely at the family gatherings someone (or many someone's) will be asking you, "how's your love life?"
If you don't have exciting news to share or you are absolutely dreading this question, I have some fun responses. Here are a few ideas: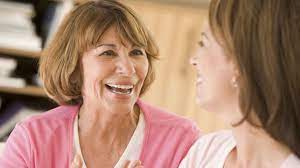 Polite response: Not as well as I'm hoping for, so please light a candle and say some prayers for me.
Shocking response: Great! I'm crazy in love with an inmate at Florence Supermax. He's a reformed drug smuggler with the best sense of humor and he says I'm the most gorgeous thing on the planet. He's up for parole in 2038. He writes me every day and I think he just might be the One.
Acceptable response: I'm signed up on five dating apps and in between desperately flirting online and Facetime, I'm trying to keep up with my day job. Do you think I need a Vampire facial?
Woo-Woo response: I signed up with a psychic who paints portraits of your soulmate and I'm using Google to search for him based on the image I now have. I'm also doing daily affirmations, visualizations, taking aromatherapy baths with a specially made concoction and offering a cash reward to whoever finds him (or her) for me."
Realistic (for some) response: I've started a Go Fund Me page to freeze my eggs, can I send you a link to donate?
Smartass Response: I'm thinking about trying out for some reality shows like Married at First Sight and I'm buying a six month pass to Speed Dating at the local Sports Bar.
Try to remember that your family and loved ones want what's best for you. Figure out in advance what your answer to this question is and then quickly change the subject and ask them how their life is going.
Wishing you love, laughter, and magical kisses,
Arielle
P.S. Don't spend 2023 alone. If you are ready to put down the "hopium pipe" thinking love will find you organically, and you desire to manifest Big Love, give yourself an early Christmas present. Check out my online course. When you invest a little time, energy, intention, and attention to making love happen, the Universe delivers.
All the details are here: The Love Codes.
https://www.arielleford.com/wp-content/uploads/af-logo.svg
0
0
Amber Miller
https://www.arielleford.com/wp-content/uploads/af-logo.svg
Amber Miller
2022-11-22 09:00:32
2022-11-21 07:54:46
How's Your Love Life? (& other annoying questions)