How To be the BEST Grandparent
On Saturday I organized a Celebration of Life for my mother with more than 70 family and close friends in attendance at the Catamaran resort overlooking the water.
We had a decadent buffet, face-painters, temporary tattoos, and butterfly wings for the kids, a musical performance by our dear friends Ron Bohmer and Sandra Joseph (they starred in Phantom of the Opera for 10 years as the Phantom and Christine) along with many heart opening and funny tributes.
(At the end of blog is a link to see one of the songs)
Mom was a true feminine badass kicking down doors and breaking glass ceilings with a smile and a sweet disposition winning over everyone, everywhere she went.
Before "women's lib" was a thing, she launched her own commercial insurance agency and became the first woman in the world to have her own Lloyds of London syndicate. When she went to London for meetings, they sent a Rolls Royce to pick her up at the airport, treating her like the royalty she was.
She had a wicked sense of humor and loved a dirty joke with a dirty martini.
Her favorite things in life included, first and foremost her family and friends, especially her soulmate Howard. She excelled at throwing and attending parties, was crazy about art, Broadway musicals, playing piano, attending performances of the symphony and Opera, travel, especially cruising (she went on 49 cruises!), she loved to fly and was a multi-rated pilot, and she loved hanging out and kibbitzing.
On March 25, 1981, she became a grandmother to Ashley, the first of 10, and her motto became "spoil your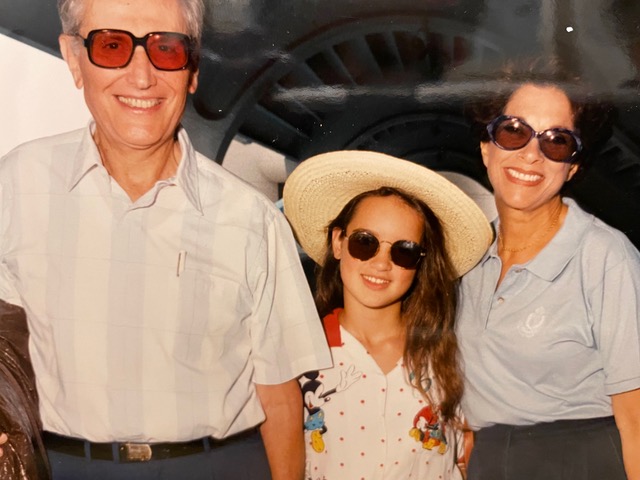 grandchildren."
She shared with me that she planned to have one-on-one time and travel with each grandkid and that is what she did.
She felt it was her role to teach them how to appreciate the good life and allow them to have unique experiences.
Ashley shared this:
"As the grandmother of the century and giver of all good fun, I know she would want me to drive home her core values:
Forgiveness – she loved to share the stories of her prodigal children and encouraged us all to engage in heroic acts of forgiving.
Kindness – the kindness she bestowed on her ex-daughters-in-law, and any honorary family member adopted in was the model for inclusion.
Gathering – as evidenced by her opening ask on every phone call: when are you coming to visit? No one appreciated gatherings more than she did and all absences were noted.
Enjoy it Now: you can't take it with you. Spoil your grandchildren."
Granddaughter Sarah shared this:
"Maya Angelou said, "I've learned that people will forget what you said, people will forget what you did, but people will never forget how you made them feel".
I will never forget how my Grandma made me feel. She made me feel loved, wanted, worthy, and special. On the days where I doubted myself or my abilities, a phone call with Grandma made me stronger. She was always encouraging and believed in me more than I believe in myself. She was also quick to tell me when I was just being dumb about something or when it was time to move on… and that is a valuable person to have in your life.
A few of the things I'm going to miss:
the way my name sounded with her Brooklyn accent, or how she called me "her little Sarah" even at the age of 36.
how blunt and direct she was with me when I was whining.
how when I visited her, we could get a pedicure, go to lunch, see a movie, and call it a productive day, deserving of a nap."
Granddaughter Eve, shared this:
"For my fifth-grade graduation I got to go all the way to Florida BY MYSELF to stay with Grandma and Grandpa. I was over the moon. It was like being an only child for a whole week – choosing what we did, what we ate, where we went, shopping for clothes that weren't hand me downs or matching sets with my sisters… it was amazing.
Then after several days of Heaven, Grandma gave me the big surprise. We were going… on… a cruise!!!! 4 nights in the Caribbean. A sail away party, mocktails, live shows, kids club, dessert anytime I wanted, karaoke… THIS was what enjoying yourself looked like!
As someone, who even as a small child took everything in life too seriously, this kind of fun was eye opening. It was one of the most important lessons I learned from Grandma. Life is to be enjoyed with the people you love.
In honor of Grandma, I vow to always take that trip, relax at the spa, make opportunities to gather the people I love, and to always go to the lengths that she did to make my children, family, and friends feel as wanted and special as she did for me."
I hope you enjoyed this Masterclass in grandparenting. Also, to see a very special performance by Ron & Sandra click below. My late sister Debbie came to Sandra in a dream and specifically requested they sing this for Mom.
Wishing you love, laughter, and magical kisses,
Arielle
https://www.arielleford.com/wp-content/uploads/af-logo.svg
0
0
Amber Miller
https://www.arielleford.com/wp-content/uploads/af-logo.svg
Amber Miller
2022-04-26 09:00:31
2022-04-25 11:47:38
How To be the BEST Grandparent