A faster Way to Manifest Your Desires
Like most people, I want what I want, when I want it and I want it now.
And the word "want" is a surefire way not to get it.
Huh?
Wanting implies that something is missing. It implies lack. And when you are in the state of wanting, all the Universe can give you is more of the feeling of "wanting."
It's a cycle of doom most times.
Now, when you have a deep desire for something and that desire is rooted in knowing and trusting that what you have asked for IS already yours, well, that's when the magic can and does happen.
However, understanding this intellectually doesn't make it so.
The Law of Attraction is slippery stuff as I found out when I began practicing it.
Fortunately, along the way, I have had many great coaches who kept me focused, inspired, motivated, and held me accountable for co-creating my desires with the Universe.
I wouldn't be where I am or who I am today if I hadn't reached out and utilized coaches in my life.
I have recently partnered with an amazing group of coaches who specialize in the Law of Attraction …they have been trained by the greats, including Joe Vitale. And I have trained them in my work so that they can help their clients attract Big Love in addition to supporting them in every important area of life from money to career to health. They are masters at blasting away your limiting beliefs so you can have the life of your dreams.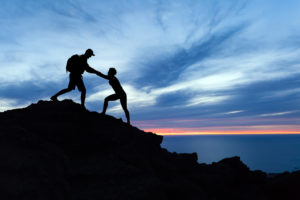 Imagine breaking through the cycle of wanting and being able to attract what you want now, with the right help.
If you would like to see for yourself how this works, please click here to fill out a short form and receive a free 45- minute coaching consultation.
A gift from me to you!
Coaching has been my secret power source, let it become yours too!
Wishing you love, laughter and magical kisses,
Arielle
Join me in Magical Mexico to Manifest Love After 50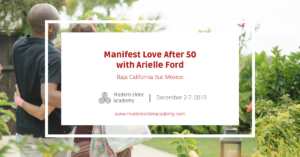 You do not need to lose weight, get a better job, or love yourself more, to manifest the love of your life but you do need to take action! I am so excited to share with you a very special 5-day workshop that I've created specifically for men and women over 50 who want to manifest love that will last the rest of their lives.
Join me this December 2 – 7 at a luxurious new retreat center in beautiful Baja California Sur, Mexico (north of Cabo San Lucas), at the Modern Elder Academy — the world's first midlife wisdom school. Located on a beautiful oceanfront campus, the workshop includes everything once you land at SJD airport: private shuttle, beautiful and comfortable rooms, delicious and healthy chef-prepared meals, an idyllic setting w/ pools, yoga, hot tub, steam room, and even celebratory dance parties—all while providing a life-transforming curriculum and experience.
My observations (and new studies are proving) that finding love after 50 has never been easier IF you know what you are doing. If you are hanging around hoping, wishing, dreaming that LOVE will just happen organically, chances are you will still be single a year from now.
There are only 14 spaces remaining, so if you think this might be for you click here for more info: (scroll down until you see "MASTERY WEEK w/Arielle Ford.")
The Courage To Change
Right thinking is the fountain of success. When you think right, you make the right choices.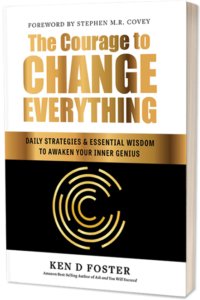 The right decisions will lead to the right actions, and right actions lead to outstanding results.
In The Courage to Change Everything, you'll uncover the formula for ongoing success and the unfoldment of your transformation.
This must-read book is by my friend, Ken D Foster.
I highly recommend it.
https://www.arielleford.com/wp-content/uploads/af-logo.svg
0
0
Arielle Ford
https://www.arielleford.com/wp-content/uploads/af-logo.svg
Arielle Ford
2019-08-13 06:00:32
2019-08-12 19:46:39
A faster Way to Manifest Your Desires