God's Cosmic Joke On Men and Women…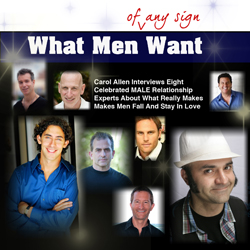 I'm constantly amazed at how little men and women understand each other… and at how much needless pain and suffering that causes.
Our differences are downright comical – as though God is playing a cosmic joke on all of us.
Don't believe me?
Here's what I mean…
Did you know that the more upset a woman is, the more she needs to talk about it? But that the more upset a man is, the less he wants to? (Doesn't that explain a lot?)
Did you know that when women feel stressed out, they will typically reach out to others? But when men feel stressed out they mostly want to be left alone?
Did you know that women communicate with an average of over 20,000 words and sounds a day, but men use only about 7,000? (Yup – he really is out of words at the end of the day…)
And did you know that if you look at the results of research studies from many branches of knowledge (psychology, sociology, anthropology, neuroscience), they all find that women's core primary need is connection, while men's is competition?
Do you see a little, er, problem with each of these examples?
Me, too…
Sadly, they leave many of us baffled. And vowing that we'd rather "call the whole thing off."
Which is why it's so helpful to understand what's really going on, and that it's not personal. But once we women get past the theories, philosophies and research results, it's so helpful to know just what to do at critical moments when you're dealing with a real, live man.
How should you behave when you first meet a guy?
Is it okay to approach, or should you wait to see if he's interested?
What do you do on first dates? Second dates? And when is it okay to sleep with him?
And once you're seeing him regularly, how can you be sure he'll stick around if you want him to?
For answers to such questions, I like to go "straight to the horse's mouth."
That's right – I like to learn from men.
My good friend, Carol Allen, (Vedic astrologer and relationship coach), agrees. Her favorite thing is learning about men from men, too. But not just any men. Carol likes finding out what men want from men who've made it their life's mission to understand other men.
So she sat down with eight of the world's leading male relationship experts and interviewed them at length about what men are thinking, and what attracts them and wows them in a woman (and what makes them want to commit!), for a program called, "What Men Want."
What she learned from these amazing men (all of whom are authors, and many of whom have worked with thousands – even hundreds of thousands – of men!) forever changed her understanding of and appreciation for men.
You see, when you know how to give a man what he wants, you'll get what you want.
And a soulmate relationship ensues.
Here is just a small sampling of the golden nuggets that come from these incredible men:
The men said they were THRILLED when a woman made the first move, and that many men DO NOT love the chase as they've been hurt or rejected a lot.
If you make men feel great about themselves, and that you truly care about them, they'll WANT to commit. Being needy or clingy, bossy or pushy are the top reasons men withdraw.
Thousands of men surveyed said what they want MOST from us in bed is an emotional connection.
All of the experts insist that men want to fall in love as much as women do.
Despite what you've heard, the men swear we SHOULDN'T be dating multiple guys if we really like one as many men find this a turn off, and become intimidated even if they're strong and confident.
Carol is one of my favorite relationship experts, and the men she's gathered are among my favorite men! (Seriously, these guys are all great and they really know their stuff – Evan Marc Katz, Christian Carter, David Wygant, Jonathon Aslay, Alex Allman, Larry Michel, Adam Gilad, Dr. Ali Binazir… there's even a bonus interview with Mat Boggs.)
Don't ever be needlessly baffled or hurt by a man again. Learn the secrets only men can tell you, and be amazed at how much better life can be. Learn more or order this special, love-life saving program here.
Wishing you love, laughter, and magical kisses!
Arielle
https://www.arielleford.com/wp-content/uploads/af-logo.svg
0
0
Arielle Ford
https://www.arielleford.com/wp-content/uploads/af-logo.svg
Arielle Ford
2013-05-28 06:04:13
2013-05-24 19:11:21
God's Cosmic Joke On Men and Women…