Love is one of those words that gets used a lot but has so many different meanings. Love is a feeling, a sentiment, a behavior, an action, a way of being, and often the thing that has the capacity to heal almost every situation.
I don't believe there is a shortage of love in the world, in fact I believe that just as there is more than enough air and water for all of us, there is an abundance of love. When we choose to consciously tap into the vast pool of love and share it with our world and the world around us, life is a better, safer, happier place for us all.
Here are wise words from a sermon by Rev. Michael Curry:
"The late Dr. Martin Luther King, Jr. once said, "We must discover the power of love, the redemptive power of love. And when we discover that, we will be able to make of this old world a new world. Love is the only way.
There's power, power in love. If you don't believe me, think about a time when you first fell in love. The whole world seemed to center around you and your beloved. There's power, power in love, not just in its romantic forms, but any form, any shape of love. There's a certain sense in which when you are loved and you know it, when someone cares for you and you know it, when you love and you show it. It actually feels right. There's something right about it. There's a reason for it. It has to do with the source.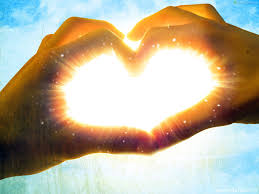 We were made by a power of love. Our lives are meant to be lived in that love. That's why we are here.
Ultimately the source of love is God himself. The source of all of our lives.
There's power in love to help and heal when nothing else can. There's power in love to lift up and liberate when nothing else will. There's power in love to show us the way to live…
Someone once said that Jesus began the most revolutionary movement in human history: a movement ground on the unconditional love of God for the world and a movement mandating people to live and love.
And in so doing, to change not only their lives but the very life of the world itself!
Think and imagine a world where love is the way. When love is the way, poverty would become history. When love is the way, the earth will be a sanctuary. When love is the way, we will lay our swords and shields down by the riverside to study war no more. When love is the way, there's plenty of room for all of God's children. When love is the way, we actually treat each other, well, like we are actually family. When love is the way, we know that God is the source of us all, and we are brothers and sisters and children of God. Brothers and sisters — that's a new heaven, a new earth, a new world, a new human family.
Dr. King was right. We must discover love, the redemptive power of love. And when we do that, we will be able to make of this old world a new world."
Wishing you love, laughter and magical kisses,
Arielle
https://www.arielleford.com/wp-content/uploads/af-logo.svg
0
0
Amber Miller
https://www.arielleford.com/wp-content/uploads/af-logo.svg
Amber Miller
2021-04-06 08:00:03
2021-04-02 14:17:08
The Power of Love