Killing Buddha (it's a good thing)
Did you know that the personal growth world has a dark side? And that not all the superstars of this world walk their talk?
I have spent more than 30 years attending personal growth workshops, working closely with the teachers of it, and have been in a rare birdseye place to observe what goes on. 90% of my experiences with the teachers and their teachings were very positive but I saw some things… out of control diva behavior, falling on the floor sloppy drunk, profound arrogance, and I've read about male yoga teachers taking sexual advantage of their students, etc.
I've learned that it's true, we teach what we need to learn most, and that most of us interested in personal growth deliberately come to it in search of healing, which is why the teachers are teaching it in the first place. They had a core wound, found a solution, and now want to share it with the world. So, we don't always want to be too quick to judge them (unless their behavior is abhorrent or criminal) and make room for their imperfect humanness.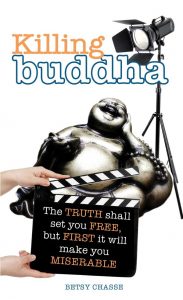 This is why I am super excited to share this news with you: In her new page turner of a novel, Killing Buddha, Betsy Chasse (co-producer of What the Bleep Do We Know) delivers a laser sharp mostly fictional journey through the phony love and light dogma of the personal growth world and the many spurious teachers of self-help.
Workshop junkies will have a blast trying to figure out who is who as the story takes you up and close and personal with the purveyors of transformation and enlightenment.
The heroine, Sara, is loveable, relatable, perfectly imperfect, as well as funny as hell, scathing, snarky, and ultimately totally authentic. Seekers and cynics will equally enjoy the trip.
It's laugh out loud funny. You can buy it now!
Wishing you love, laughter and magical kisses,
Arielle
p.s. If you want to watch a 15 minute interview of me and Betsy, check it out here (scroll down on the page to find it).
https://www.arielleford.com/wp-content/uploads/af-logo.svg
0
0
Amber Miller
https://www.arielleford.com/wp-content/uploads/af-logo.svg
Amber Miller
2021-03-23 09:00:35
2021-03-22 10:01:12
Killing Buddha (it's a good thing)