The Golden Bachelor – Why I'm Obsessed with It
I was never a fan of The Bachelor Series but with the premiere of The Golden Bachelor on ABC (Thursdays at 8pm,) I plan on showing up for the entire series.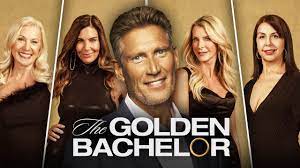 If you've been living on another planet and haven't heard of it, it's a dating/reality show featuring one 72-year-old widower, Gerry, from Indiana along with 22 single women ages 60-75, all looking for their final life partner.
Within five minutes of the first episode, I cried as Gerry tearfully shared his story of marrying his high school sweetheart (42 years!) who died unexpectedly of an infection six years ago. He was kind, vulnerable, authentic, mature, handsome, and irresistible and it was easy to see why they chose him for the show.
For any woman of a certain age looking for love, he is living proof that there are STILL good guys out seeking Big Love.
After crying, I found myself either smiling or sometimes cringing, as the 22 gals introduced themselves to Gerry.
Most of them had some kind of schtick to get his attention.
One woman outrageously told him it was her birthday and wanted to show him her birthday suit. She untied her wrap dress, opened it wide, and underneath she had on a nude bathing suit. Ugh. Too aggressive for my taste however she ended up getting a kiss and a rose later in the show, so Gerry obviously fell for it. (I can only imagine what his daughters and granddaughters must have thought!)
Another woman brought him a basket of raw eggs and kept clucking like a chicken while wearing an ill-fitting way-to-low-cut dress. I got really judgy at this point and decided she was a bit psycho.
Most of the ladies seemed quite intelligent, caring, were attractive in their evening gowns, and had made a real effort to look as good as possible, except for one woman who wore a tracksuit (she did not get a rose and left the show the first night.)
Who's he gonna pick to be Wife #2?
We'll see. The good news is that on TV interviews Gerry has said he is VERY HAPPY now even though he can't name the woman he chose.
Send me your thoughts via Instagram: @arielleford44
Wishing you love, laughter, and magical kisses.
Arielle
P.S. If your heart's desire is to manifest your soulmate (then join me for a fun, empowering, and experiential retreat in Italy dedicated to finding love and keeping love. Using the magic and beauty of Tuscany and Venice, for six days we will immerse ourselves in high-level manifestation where you will discover proven techniques, prayers, processes, and rituals that harness the seeds of your desire.
https://www.arielleford.com/wp-content/uploads/af-logo.svg
0
0
Arielle Ford
https://www.arielleford.com/wp-content/uploads/af-logo.svg
Arielle Ford
2023-10-03 09:00:20
2023-10-02 10:34:50
The Golden Bachelor – Why I'm Obsessed with It