For those of you who LOVE a great read and are interested in psychology, spirituality, consciousness, shamanism, mental health, and healing from grief, I'm excited to tell you about a new book, Travelers, by my friend Donald Altman.
He is a psychotherapist and former Buddhist monk who was featured in The Living Spiritual Teachers Project. Travelers is a mystical, spiritual adventure in the genre of The Way of the Peaceful Warrior and it's a real page-turner!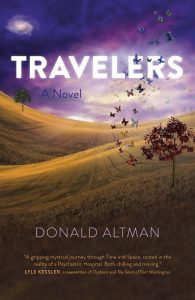 Here's a snapshot of the story:
A Grieving Psychiatrist Faces Demons Both Real and Imagined.
When psychiatrist Dr. Ben Banks loses his daughter, he can't find a way to recover from his agonizing grief.
But with the arrival of a mysterious mind-bending "Traveler," a sentient canine, and a suicidal patient at the hospital, the Doctor is forced to question his own medical training and even the root causes of mental illness itself.
With his marriage, career, and life hanging by a thread, Ben Banks faces dangers and demons, both real and imagined.
To heal himself, as well as save his young patient from a life of mental illness and institutionalized care, he must undertake a mystical journey that challenges his rational beliefs about consciousness and reality—even death—all the while being transformed in this inspiring story of hope, healing and renewal.
WHY he wrote Travelers:
"Having worked in psychiatric clinics, I believe that there are other ways of understanding mental illness that can awaken us to our wholeness and the mysterious divine that exists all around us. In Travelers, I explore spiritual initiation as a form of healing that can arise even from the darkness of grief and depression. Travelers shows how awakening to our true selves opens the door to love, healing, possibilities and miracles."
Wishing you love, laughter, and magic,
Arielle