Play Cupid For A Single Friend
In the Jewish tradition there is a practice called "doing a mitzvah," otherwise known as a good deed. I've always heard that two of the mitzvah's that will get you big brownie points with the Creator is to:
#1 find someone a job
#2 find someone a soulmate
I was recently interviewed by the Chicago Tribune on the topic of "how to survive a blind date" which got me thinking about this topic of playing "matchmaker" for friends. (In Yiddish, someone who does this is also called a "yenta", although technically a yenta is someone who gossips and meddles in the affairs of others…)
With Valentine's Day just around the corner, now might be a great time to think about all of your single friends and see if there is anyone you might be able to fix up.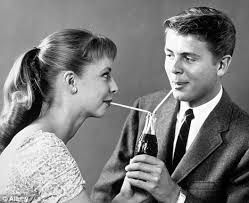 I did this a few months ago for one of my girlfriends. She told me she was looking for some "fun dates" and they didn't have to be with "the One," just someone nice to spend time with.
This took the pressure off me to find her the perfect man.
As I scanned my internal Rolodex of single male friends, I thought of James, who had recently gone through a divorce. So, I fixed them up.
Did they fall in love?
No, but, they have both thanked me for taking the time to connect them because they have now become good friends.
Most singles are really resistant to blind dates, so here's what I found works best when approaching this subject:
First, check with both parties to see if they are open to it.
Then tell each of them WHY you think they would enjoy the other.
Finally, suggest an easy way for them to connect, perhaps through a brief email introduction.
Then imagine Cupid's arrow sailing through the heavens to make a love connection as you step away and watch what happens!This is how to make a mitzvah!
Wishing you love, laughter and magical kisses,
Arielle
https://www.arielleford.com/wp-content/uploads/af-logo.svg
0
0
Arielle Ford
https://www.arielleford.com/wp-content/uploads/af-logo.svg
Arielle Ford
2015-02-03 06:00:29
2015-02-02 16:47:50
Play Cupid For A Single Friend