Must See Film: SESSIONS with Helen Hunt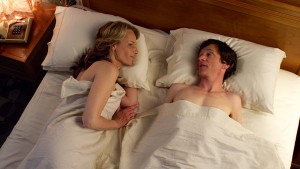 True Story: As a young boy, Mark O'Brien (played by John Hawkes) contracted polio and was left confined to a life bedridden on an electric gurney or sleeping in an iron-lung.
Unable to move anything but his head, he can breathe on his own for a few hours at a time, he can turn the pages of a book or dial a phone with a stick in his mouth, and while he can't move anything from the neck down, he can still feel sensation.
By age 38 he is a journalist and poet in his late thirties, determined to lose his virginity.
During one of his weekly confessions with his free-thinking Catholic priest, Father Brendon, (played by William H. Macy) Mark, who spends a lot of his time thinking about and talking sex, shares his need and desires by asking
"Will God forgive me this sin of having unmarried sex?"
"I know in my heart that God will give you a free pass on this one, go for it " says Father Brendon in giving his blessing to Mark.
Thus begins a journey that is frank, funny and tender as well deeply moving, and gives a true look into the heart of intimacy.
The brave and bold Oscar winning actress, Helen Hunt, stars in SESSIONS as the professional sexual surrogate Cheryl Cohen-Greene. Hunt, who spends much of the film naked and in bed with her client, is a caring and compassionate sexual guide who comes with many rules including a six-session limit.
Ultimately Mark's deepest desire to achieve sexual union with a woman is fulfilled.
There is a surprising amount of humor and lightness in the film as well as a beautiful connection and vulnerability between Mark and Cheryl that I couldn't help but label as Wabi Sabi.
The loving connection that develops between them is palpable though imperfect.
This film, acted with a piercing depth of humanity, is not only about the intimacy that grows between two very unusual people, but it's also an ode to the act of intimacy itself, an unsentimental celebration of the power of sexual healing.
I highly recommend Sessions.
My new book Wabi Sabi Love is now available!  Finding your Soulmate is just the beginning.  Read how successful couples keep the soulmate fire burning.  Receive a priceless bonus bundle of advanced love attraction resources and techniques when you order your copy right here:   Wabi Sabi Love
https://www.arielleford.com/wp-content/uploads/af-logo.svg
0
0
Arielle Ford
https://www.arielleford.com/wp-content/uploads/af-logo.svg
Arielle Ford
2012-12-19 23:04:47
2012-12-19 23:04:47
Must See Film: SESSIONS with Helen Hunt