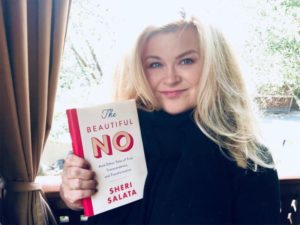 My amazing friend, Sheri Salata, is a deep, loving, soulful woman who had the career of her dreams for 21 years including titles as Executive Producer of the Oprah Show and co-CEO of OWN network. When she decided to move on and "produce" her own life she was one hundred pounds overweight, no man in site, and nearly 57 years old. Today her book, The Beautiful No, arrives in stores, and I've invited her to be a guest blogger on the topic of
What I Know About Love.
Let me cut to the chase.
I never really internalized the wisdom" you've gotta love yourself first and then". I would nod my head in agreement, but it didn't land in my bones.
It sounded right and I would pay it lip service but that was about it. And I think I was not alone. There are a whole bunch of us who, when being really honest, are puzzled by the concept. What does it mean to love ourselves first? What kind of love is it?
For decades and decades, I waited to be anointed by the love of my soulmate. His desire for me, his delight in the way I move through the world, his interest in the words I utter, his declaration of my physical beauty. The kind of devotion that would deem me lovable. And once I took my place on that lovable podium, I would find it a snap to "love myself". I moved through the world and through failed attempts at soulmate love with those shadow beliefs driving my every move.
But not too long ago, I was flipping through Insta when I saw post that stopped me cold. It said "Love yourself first. Love yourself most."
Love yourself MOST. What a powerful shift in perspective. If I decided that there would be no one else on earth EVER who would treasure and cherish me more than ME, the unrequited "search" would be over. I would have found not only the love of my life but the love of my dreams. The kind of love that walks beside me through everything. Then I could partner with my soulmate man and just love him, no strings attached. I would bring my worthiness, my overflowing love cup, my healed self, my whole self to a commingling of equals who share the love that they have created inside of them with each other. Who don't need, require, or demand that the other be anything but who they are. Who don't need, require, or demand that the other make them feel lovable.
That's what I want now. It's a far different love dream than the one I had when I was a young woman. It's deeper, richer and truer. And in my grasp this very instant even when the partner of my dreams is on his energetic way and not right in front of me.
True love. The truest love.
Sheri's book and message, "The Beautiful No," is for all of us …single, partnered, or somewhere in between.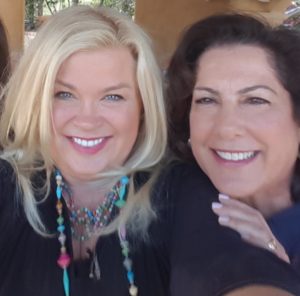 Reading it is like having the juiciest lunch ever with a new, wise, dear friend!
Wishing you love, laughter and magical kisses,
Arielle
https://www.arielleford.com/wp-content/uploads/af-logo.svg
0
0
Arielle Ford
https://www.arielleford.com/wp-content/uploads/af-logo.svg
Arielle Ford
2019-06-11 14:00:29
2019-06-11 14:05:17
Love Yourself Most