Love, Attraction, & Gray Hair!
Gray hair getting you down?
Here's some science based good news!
Whether you are dating or partnered, according to a joint study between psychologists from the University of St. Andrews and the University of Liverpool, a more mature appearance is exactly what some men find the most attractive. ("Mature" is code for gray hair in this instance.)
The study looked at how likely men (and women) are to be attracted to certain hair and eye color in their chosen partners, and they found that for men, the best indicator of preferences was the hair and eye color of their mothers. When nearly 700 volunteer participants (including 394 men) were asked about the hair and eye color of themselves, their parents, and their partners, they found that overwhelmingly, men were attracted to the same coloring that their mothers had.
The study found that "healthy" hair is more important than hair color unless you have an unnatural color in your hair, in which case it works against you.
I love this photo of my friends Alice and Stephen Josephs. Alice went gray in her forties and Stephen was just fine with that (his Mom was gray by her fifties.) From the first time I met Alice, I have envied her gorgeous gray hair and her loving and exuberant personality.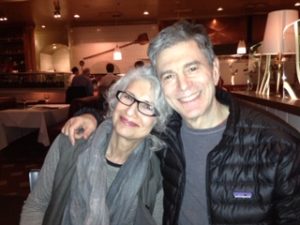 For more than twenty years, I have been coloring my hair every two weeks trying to stave off the fact that underneath, my hair is gray. Even though Brian has been encouraging me to go gray forever (his Mom was gray in her early forties), I have been resistant. No more. I have finally decided to go for it (and if I don't like it, I can always revert back to hair coloring.)
As soon as I accomplish this transformation, I promise to post some photos of my new "mature" look. Fingers crossed!
FREE – Release Fear, Stress, Anxiety, Starts TODAY!
For the past 15 years I have been utilizing The Sedona Method release technique for everything from frustration, anger, fear, anxiety, to negative thinking, and even hypoglycemia symptoms. It's super fast and very easy and I swear to you it really, really works!
For the next three days, starting TODAY, you can access The Sedona Method for FREE. You won't have to buy a thing to get the process, and there are no strings attached.
It helps you let go of uncomfortable emotions, right on the spot, without getting stuck in them or having to figure out why you even have them.
Click here to get your 3 day pass!
The Everything Book
When I first got married there were many days when I wished that Brian came with an Owner's Manual! There seemed to be so many things I didn't know about him and things he had told me but I had "forgotten," and I knew if I had an owner's manual, life together would be so much easier (and more fun!).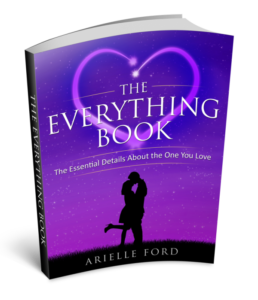 This is why I wrote The Everything Book: The Essential Details About The One You Love.
It's a "fill in the blank" book to complete and share with your partner. It is designed to capture the essential details about the one you love. And, it's a fun and playful way to communicate with your partner exactly what will make you happy!
Whether you've been together three months or thirty years (or more!), there is always more to learn about the one you love. Unless you have a photographic memory, it's hard to remember all the facts, as well as the little details that make someone feel special.
Wishing you love, laughter and magical kisses,
Arielle
*To read more on the study cited above and discover ALL the things men find attractive in women click here!
https://www.arielleford.com/wp-content/uploads/af-logo.svg
0
0
Arielle Ford
https://www.arielleford.com/wp-content/uploads/af-logo.svg
Arielle Ford
2019-07-16 06:00:23
2019-07-15 15:37:43
Love, Attraction, & Gray Hair!