It's My Birthday!!! (here's my wish)
Today I am 68 years old.
It's a reality.
It's a number.
It's also fun to have reached a stage in my life where I no longer care what anybody thinks about me and I can just totally be me.
I have gray hair, I weigh 144 pounds, I've shrunk down to 5' 7" and my short-term memory is like Swiss cheese.
And I feel healthier and happier than I ever imagined possible, in spite of the fact that I also feel restricted from doing many of the things I most value, like hanging out with friends, dining out, and traveling.
I have learned to be happy in spite of the circumstances.
Today I have given myself permission to boldly ask for what I want for my birthday.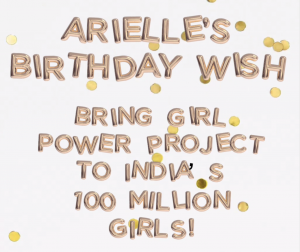 My wish is to raise $80,000 to launch a powerful program in India to help the 100 million teen girls there.
Through this proven program, they will discover how to avoid early marriage, stay in school, protect their bodies from all kinds of abuse, create the career of their dreams and so much more.
This program is called Girl Power Project and it's something I have been supportive of for many years. It has a proven track record of success in 90 communities in Uganda and it was recently highlighted for its impact and efficacy in the Journal of Universality of Global Education Issues.
If you feel so inclined and have the means to do so, I will be most grateful for your support.
Wishing you love, laughter and magical kisses,
Arielle
https://www.arielleford.com/wp-content/uploads/af-logo.svg
0
0
Amber Miller
https://www.arielleford.com/wp-content/uploads/af-logo.svg
Amber Miller
2020-12-29 10:00:37
2020-12-28 21:32:01
It's My Birthday!!! (here's my wish)