Is It Too Late To Find Love?
Last week I met a beautiful 50-something woman named Wendy. She told me how much she enjoyed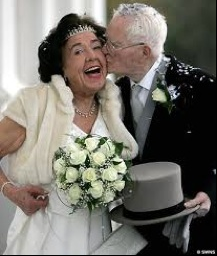 reading The Soulmate Secret and she was "hoping" she might get lucky and find love again, even though she still carried a torch for her ex-husband. She then said she was "realistic" about her slim chances of finding a soulmate now that she is in her fifties.
I wanted to grab her by the shoulders, shake her, and ask her WHY do you tell yourself lies like this? But, instead, I took a deep breath and told her what I know to be the truth:
"It is not too late for you to experience unimaginable, legendary love and manifest a soulmate who will appreciate and adore you. I know of many men and women who have found love in their later years. It's okay to love your ex-husband. In fact, it's probably impossible to stop loving the ones we've loved and cared for.
However, you need to finally accept that he is long gone, not coming back, and it's time to let go. See if you can find a little corner of your heart to place your love for him in and when you catch yourself thinking about him, remember to put him back into that little place and focus on the heart traits and delicious qualities of your soon-to-be met soulmate.
Whatever destiny or karma you once had with your ex-husband is now complete so give yourself the gift of moving on to something that serves you and the greater good."
It's really important that we let go of the thoughts or beliefs that we can't find love again. Do you believe that just because you are 50, 60 or even 90 that there is any less oxygen for you to breathe? Of course not. There are close to 7 billion people alive on the planet today. About half of them are single. You only need ONE. One person to love you like you've never been loved before. One person to share your life with…to be your best friend and lover.
Becoming laser clear about who this person is, what they're like, and MOST IMPORTANTLY what you will FEEL like when you're with them, is essential to your success in manifesting your soulmate.
Once you figure this out, and actually integrate this into the core of your being, you will be well on your way to new love.
Please don't spend a minute wishing you had done any of this sooner. If you could have, you would have. Remember to leave room for divine timing and also be grateful that you are now open and available for the love you've always desired.
Be sure to check out my new book…get a free preview chapter right here at http://WabiSabiLove.com
My new book Wabi Sabi Love is now available!  Finding your Soulmate is just the beginning.  Read how successful couples keep the soulmate fire burning.  Receive a priceless bonus bundle of advanced love attraction resources and techniques when you order your copy right here:   Wabi Sabi Love
https://www.arielleford.com/wp-content/uploads/af-logo.svg
0
0
Arielle Ford
https://www.arielleford.com/wp-content/uploads/af-logo.svg
Arielle Ford
2011-09-22 12:06:52
2012-04-07 20:43:49
Is It Too Late To Find Love?