My Favorite Lockdown Distractions
TV, Books, Beach walks and Travel Memories are all the top of my list of how I've been keeping myself amused this summer. FYI, none of these activities fall into the category of spiritual or personal growth.
TV – Brian and I have fallen into an early evening routine of watching a couple of hours of TV together. Since we can't go out to the movies, we have a found some series that are just as exciting. Our favorites are on Netflix. We've watched all of the episodes of White Lines, a decadent, sophisticated mystery of drugs, sex, and murder on Ibiza.
Next we watched Money Heist (created by the same producer as White Lines, Alex Pena who's storytelling chops are spectacular). It's a thriller of crazy bank robberies in Spain with an eclectic, captivating cast of characters.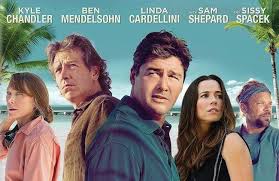 Right now, we are deep into season two of Bloodline about the very wealthy, dysfunctional (but well-respected) Rayburn family in Key Largo. The family owns a beautiful beachfront hotel that is the epicenter of the action. These folks lie more often than they breathe. Everyone has deadly secrets in this twisted, crazy group and when the black sheep brother returns home, all hell breaks loose. It's quite addicting and stars Sissy Spacek and Sam Shepard.
Travel Memories – I haven't been on an airplane in more than six months and I really miss it. It's likely that it may be a long time before it's safe to travel, so, I have been pulling together all of my favorite travel photos from more than 30 years of trekking around the world. Each day I post a photo on my Facebook page and for now this is calming my travel bug.
Books – just finished a laugh out loud novel by one of my favorite writers, Carl Hiaasen. It's titled Razor Girl and it's about a lovable con woman and a disgraced detective who team up to find a redneck reality TV star who gets into more trouble than he can handle. All of Carl's books take place in South Florida (where I grew up)
and they vividly depict the swampy criminality that is rampant there.
A daily beach walk, working out on my Elliptical, and lots of use of my Calm app are all part of my "new normal."
What's your new normal look like?
Wishing you love, laughter and magical kisses,
Arielle
https://www.arielleford.com/wp-content/uploads/af-logo.svg
0
0
Amber Miller
https://www.arielleford.com/wp-content/uploads/af-logo.svg
Amber Miller
2020-07-14 06:00:24
2020-07-13 14:52:35
My Favorite Lockdown Distractions