We all have dreams and desires that we would just LOVE to come true.
Perhaps you have a clear picture of what your dream is.
You think about it, wish and hope it's going to come true…but are you really doing everything you can do co-create your dream with the Universe?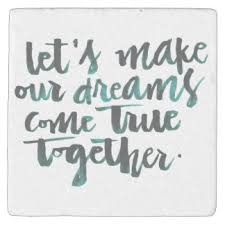 What we often leave out of the equation is sharing our dreams with our friends.
According to Forbes magazine, sharing our goals with friends improves our chances of reaching them!
Research indicates that writing down our goals, sharing them with friends, and sending our friends regular updates about our progress boosts our chances of succeeding.
Studies show that people who merely thought about their goals and how to reach them succeeded less than 50% of the time, while people who wrote goals down, and enlisted friends to help them by sending regular progress reports succeeded closer to 75% of the time!  WOW, that is worth paying attention to!
I encourage you to start sharing your dreams and goals today!
Wishing you love, laughter and magical kisses,
Arielle