Are You Highly Sensitive?
One of the biggest AHA moments of my life was when I discovered that I wasn't crazy…. I found out that being super sensitive to loud noises and bright lights (and more) is actually a condition with a name – it's called being a Highly Sensitive Person (HSP).
What a relief it was to discover not only a name for my peculiar reactions to life, but that there are also solutions. (Some are below!)
About 20% of the population is born with heightened sensitivities. One definition of HSP is described as having hypersensitivity to external stimuli, a greater depth of cognitive processing, and high emotional reactivity.
How do you know if you are an HSP?
You become overwhelmed from too much stimulation.
You feel drained from emotionally charged situations.
You have 

sensitivity 

to loud noises, certain smells, or bright lights.
You are susceptible to feeling other people's negative emotions in your 

body 

such as anger or stress.
For someone born with heightened sensitivities, your path to creating your dream life can be filled with ease, grace and flow OR it can be a hard journey of struggle, hard work and burnout.
Other signs of being an HSP include:
Patterns of behavior that you keep repeating over and over again that prevent you from having what you want.
Self-sabotaging success, or finding yourself procrastinating to take action towards a goal even when you have a viable plan.
Having a cycle of working really hard and burning out before you reach a goal.
When you are on the path of hard work and burnout, it means that you are subconsciously making decisions and taking actions based on your inner voice of fear and criticism. This voice of fear will alternately tell you to hold back and not take a chance and then tell you that you should be working harder. This leaves you feeling stuck, frustrated and depleted.
Here's a simple exercise you can do to override this fear-based voice and instead listen to your empowering voice of confidence which will lead you on the path of ease and flow.
Think of someone you really admire and respect, and write down all the qualities you really love and respect about them. Then in detail describe how this person demonstrates the qualities you love about them. You will notice that the qualities that really resonate with you about the person you respect are the qualities people admire most about you and see in YOU.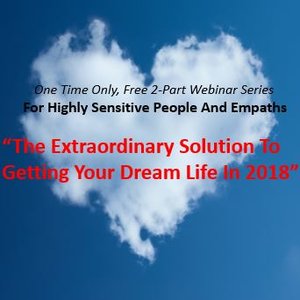 Now close your eyes and feel these special qualities inside yourself. Think of all the evidence in how you demonstrate them into the world.  THESE special qualities ARE the key to how you get on the path of creating your dream life with ease and flow. When you are resonating the most beautiful qualities of your soul, you make decisions that are empowering and authentic.
If you are a highly sensitive person and want to know the simple four-step formula that creates your dream life with ease and flow, then please join my friend, HSP expert Debbie Lynn Grace, on November 9 for a complimentary webinar. To register, CLICK here.
Wishing you love, laughter & magical kisses,
Arielle
https://www.arielleford.com/wp-content/uploads/af-logo.svg
0
0
Arielle Ford
https://www.arielleford.com/wp-content/uploads/af-logo.svg
Arielle Ford
2017-11-07 06:00:25
2017-11-06 17:13:46
Are You Highly Sensitive?