This took me 36 years to manifest!
I have always been a big believer in Divine Timing. Sometimes my desires manifest almost instantly, others take a bit longer, and recently I had a dream that took 36 years!
Here's what happened:
In 1987 I went on vacation with a girlfriend to the island of St. Maarten in the Caribbean.
While there, we went on a day trip to the neighboring island of Anguilla to have lunch at a new luxury hotel, The Malliouhana.
If was love at first site.
Situated on the highest hill on the island, the grounds were lush and tropical, the white sandy beach and warm, crystal-clear turquoise ocean was captivating. The gourmet food was delicious.
After lunch I was lounging in a hammock, daydreaming about what a picture-perfect romantic location this was, and I promised myself that someday I would vacation here with my soulmate.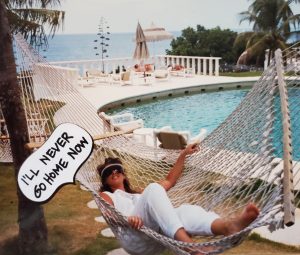 (At the time I was very single)
Swaying in the hammock, I imagined how happy I would feel spending time with my beloved in paradise.
During the 25 years Brian and I have been together we have been fortunate to travel the world and spend time in many gorgeous beach locations including Bora Bora, Santorini, Barbados, etc.
I had forgotten about Anguilla until a few months ago when I was sorting through a bunch of old photo albums and came across the original picture in the hammock. And in that moment, I remembered the dream of returning I had so many years ago.
Since we were in the process of figuring out how to celebrate my 70th birthday I KNEW THAT NOW was the time to make that dream come true.
Last week, when we arrived at the hotel, we walked the grounds which had changed considerably in 36 years. There were 3 new pools, and the old pool location was a now a wedding garden and it was there that we found the hammock!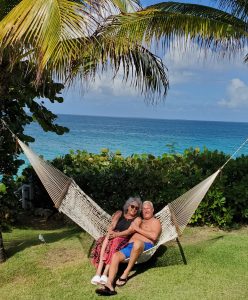 Sitting the hammock with Brian, not only was I happy, satisfied and content, I realized that it was finally the perfect time for this vacation, and YES it was totally worth waiting 36 years for.
#dreamsreallydocometrue
#itsnevertoolate
Wishing you love, laughter, and magical kisses,
Arielle
https://www.arielleford.com/wp-content/uploads/af-logo.svg
0
0
Amber Miller
https://www.arielleford.com/wp-content/uploads/af-logo.svg
Amber Miller
2023-01-17 09:00:37
2023-01-16 09:35:06
This took me 36 years to manifest!