Is it time to Scare Yourself?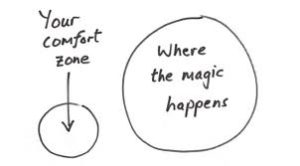 I am in the midst of a new project, something I've never attempted before, and I've been keeping a journal of the process. I promise to share all about it at that right time but for today here's what I want you to know.
Over the weekend I read my journal and I had forgotten how absolutely terrified I was when I began it.
My first journal entry revealed that I was sick with nerves and severe anxiety as I began this project. I was filled with self-doubt and fear of failing. At one point I felt like I would pass out just thinking about the enormity of what I was committing to while having thoughts such as:
"Who am I to attempt this?"
'"I don't know how to do this."
"I'm not smart enough to do this."
"No one will ever be interested in this project."
"I'll end up looking like such as loser for attempting this."
These and many other negative thoughts consumed my monkey mind, initially.
But, I didn't let it stop me.
Now I am giddy and inspired by my project. I am so happy and excited that I tackled it, in spite of my early trepidation. I think this project could end up as my greatest achievement at some point.
What is stopping you from your next grand achievement?
In the words of the late, great Dr. Susan Jeffers, "feel the fear and do it anyway!"
Wishing you love, laughter and magical kisses,
Arielle
https://www.arielleford.com/wp-content/uploads/af-logo.svg
0
0
Arielle Ford
https://www.arielleford.com/wp-content/uploads/af-logo.svg
Arielle Ford
2019-05-21 06:00:12
2019-05-30 10:26:39
Is it time to Scare Yourself?