Hitting the Wall and Not Giving Up
For the past two and a half years I have been working hard on writing my first novel. Along the way I have discovered how much I didn't know that I didn't know about writing fiction.
After publishing 11 non-fiction books, I considered myself a relatively talented writer.
Big mistake.
Imagine if you were a house painter who took up painting portraits and expected your first work to hang in a museum. That's how big a difference this was for me. Oy.
I am so happy that I didn't know how steep the learning curve was going to be or I would have never made the attempt.
A few days ago, I "hit the wall."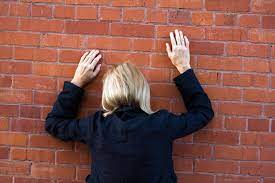 Marathoners will know exactly what I am talking about as most have experienced "hitting the dreaded wall" at Mile 20.
This is when your legs feel like heavy bricks, you're exhausted, running on fumes, physically and emotionally miserable and quitting is a persistent thought.
In this ragged state, as I neared completing my book, all I could think about was giving up.
I allowed myself a few minutes to indulge the "giving up," fantasy and then asked myself
a really, big question:
"Why did you begin writing this book in the first place?"
A torrent of answers rushed through me:
"I had no choice. The book was inside of me kicking and screaming to get out."
"It is my destiny to tell this story and whether it's read by 100 people or a million, this story provides a message of hope and healing."
"In spite of this momentary pain and frustration, this book has been the greatest creative experience of my life."
In the process of manifesting our heart's desire, whether it's finding Big Love, writing a book, finishing a marathon, climbing Kilimanjaro, starting a new business or something else, it's super helpful to have a plan in place for the times when you "hit the wall."
Here are a few tips you might be useful:
Set a reasonable pace for yourself. Whatever your goal is, create a timeline for yourself.
Runners know that if you run too fast at the start of the race, you burn out sooner.
Create a Mission Statement that outlines the reason you want to achieve a certain outcome and then look at it daily. If it's love you are seeking perhaps it could read: "I am happy, satisfied and content sharing my life with my soulmate/life-partner."
Have an accountability partner to track your progress. Research proves that when we are held accountable, we are 80% more likely to attain our goal.
Stay well hydrated with food, water, inspiration, selfcare and rewards. (fyi, I keep a bag of peanut M & M's in my desk drawer. I eat five as a small reward on the days I reach my writing goal for the day.)
Finally, plan a big reward for reaching your goal. Each time a final manuscript of mine is "accepted" by my publisher, I buy myself a push present. Usually, it's a beautiful piece of jewelry and when I wear it, I'm reminded of my big accomplishment.
Be kind to yourself and remember that "hitting the wall" is normal no matter what the goal, so have a plan for the days when you just want to give up and trust that you have the power and persistence to get to the finish line.
Wishing you love, laughter, and magical kisses,
Arielle
https://www.arielleford.com/wp-content/uploads/af-logo.svg
0
0
Amber Miller
https://www.arielleford.com/wp-content/uploads/af-logo.svg
Amber Miller
2021-04-20 09:00:37
2021-04-19 10:13:54
Hitting the Wall and Not Giving Up