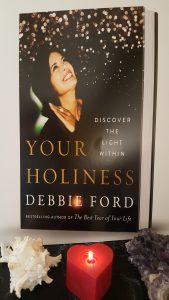 These times of chaos, turmoil, and massive uncertainty require faith and a deepening with our relationship with the Divine. Spending time in prayer, meditation, poetry, being in nature, having gratitude for all that is, cuddling with loved ones and pets…all will infuse the field with love and healing.
My beautiful late sister, Debbie Ford, wrote a prayer book, Your Holiness, and below is one of my favorites.
Drenched in Holiness
Dear God, Spirit, Divine Mother,
On this day I ask You to grant this request ~
May I know who I am and what I am, every moment of every day
May I be a catalyst for light and love and bring inspiration to those whose eyes I meet
May I have the courage to speak my voice, even when I'm scared
May I have the humility to follow my heart, and the passion to live my Soul's desires
May I seek to know the highest truth and dismiss the gravitational pull of my lower self
May I embrace and love the totality of myself ~ my darkness as well as my light
May I be brave enough to hear my heart ~ to let it soften so that I may gracefully choose faith over fear
Today is my day to surrender anything that stands between the sacredness of my humanity and my divinity
May I be drenched in my Holiness and engulfed by Your love
May all else melt away
And so it is.
~Debbie Ford
Wishing you love, laughter and magical kisses,
Arielle
https://www.arielleford.com/wp-content/uploads/af-logo.svg
0
0
Amber Miller
https://www.arielleford.com/wp-content/uploads/af-logo.svg
Amber Miller
2020-06-02 06:00:16
2020-06-01 12:09:45
Drenched in Holiness