Arielle Recommends: The Impact of a Living Saint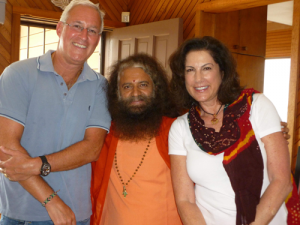 When I was creating my soulmate wish list, one of the most important items on it was the "my soulmate would love to travel to India and other exotic places."
Thankfully, Brian loves India and on our last trip there we were blessed to meet a living saint, Pujya Swamji, a true holy man, and one of India's most beloved Gurus. He is committed to love, service and doing great things in the world……
I'm excited to share with you a new, gorgeous book about Swamiji's life that has just been published. It's called By God's Grace and if you read and loved Autobiography of A Yogi, you are going to want to dive into this fascinating book.
The book is written by Sadhvi Bhagawati Saraswati, my dear friend, an American who, after graduating from Stanford University and embarking on her PhD was so touched and transformed by Swamiji's presence and teachings, that she has spent the past fifteen years living in Rishikesh and serving Swamiji's innumerable projects and programs.  This commemorative volume celebrates his sixty years of devotional service to humanity, the environment, and the Supreme.
The book traces the stories of Swamiji's childhood, meeting his Guru at the age of 8, the austerities and rigors of his training (imagine standing on one leg for 11 hours a day at the age of 9!) to living alone in the jungle during his teenage years without shoes, or even a shawl and just one copy of the Bhagavata Gita for companionship. This true tale is mind-boggling and amazing.
Today he spends his days on countless humanitarian projects including providing shelter and education to hundreds of orphans as well as working closely with world leaders, from the podiums of the United Nations, the World Economic Forum, and other venues of global change.
Swamiji, along with his Holiness the Dalai Lama (who wrote the Foreword for the book) and other leaders are committed to many unprecedented, huge projects including a cleanup of the 1,560-mile-long Ganges.
His teachings are profoundly simple, frequently wrapped in humor and applicable to all. Elaborately and exquisitely illustrated, this is a fascinating portrait of the life, achievements, and teachings of an acclaimed spiritual pioneer.
I found the book to be deeply inspiring and highly entertaining!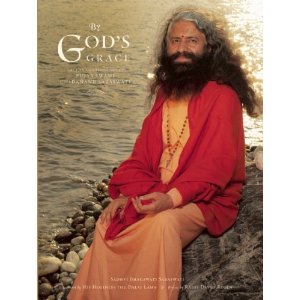 Get Your Copy of By God's Grace Now   www.bygodsgracebook.org
My new book Wabi Sabi Love is now available!  Finding your Soulmate is just the beginning.  Read how successful couples keep the soulmate fire burning.  Receive a priceless bonus bundle of advanced love attraction resources and techniques when you order your copy right here:   Wabi Sabi Love
https://www.arielleford.com/wp-content/uploads/af-logo.svg
0
0
Arielle Ford
https://www.arielleford.com/wp-content/uploads/af-logo.svg
Arielle Ford
2012-08-13 11:56:39
2012-08-13 11:56:39
Arielle Recommends: The Impact of a Living Saint